4 Emerging Factors Driving Brand Loyalty in Sports Leaders (2022)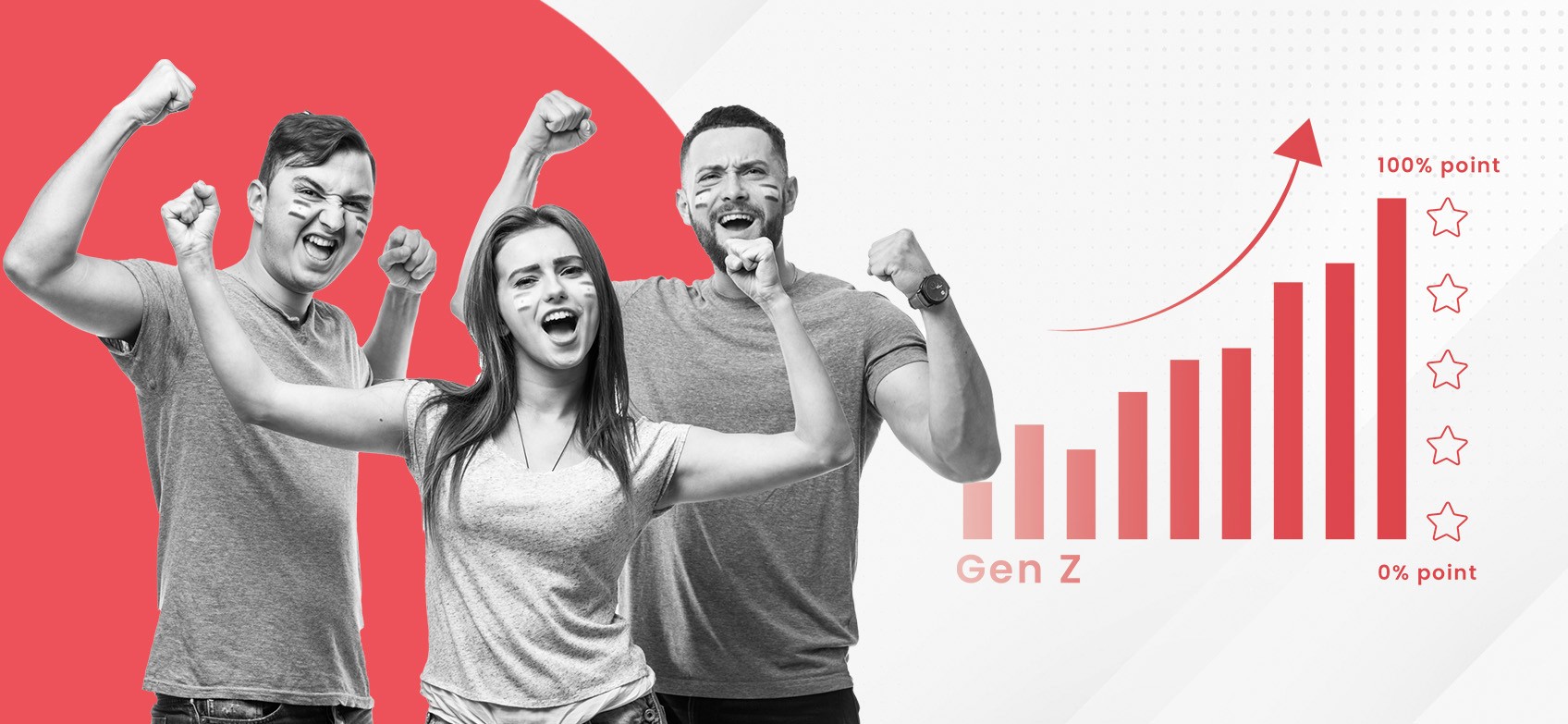 In the fast-paced sports industry, it can be difficult to win over the hearts of fans for the long run, but these four powerful trends may hold the answers.
Winning over a person's devoted loyalty is no easy task. It requires deep personal research, consistent interaction and honesty. Building brand loyalty in sports fans is no different, and digital marketing managers can easily attest to how challenging this seemingly straightforward aspect of marketing is today.
Sports fans, after all, are known for having a tribal passion and a sense of identity that we often find among complex fan bases. This is something that might perplex marketing managers who weren't born into that community and thus won't have a first-person experience of that behavioral loyalty.
If you're a digital sports marketer, you've probably encountered numerous obstacles when attempting to build loyalty within your organization's target audience, including:
Difficulty in making the fan experience relevant for your customer base
Struggling to keep up with fast-changing fan trends, especially among younger generations
Integrating the latest technology into your fan engagement strategy
Building brand equity through differentiation of brand image, fan identification, and consumer loyalty in an industry that is increasingly competitive
Maintaining sports fan loyalty is a crucial factor in the long-term success of any professional team and its sports management department, and has been since the dawn of sports. 
The organizers of the Olympics in Ancient Greece, for example, also had to engage with their fellow citizens to build loyal fans and ensure they attended the event now and in the future, only via more primitive means. 
Present-day engagement techniques have evolved alongside technological advances, with online marketing becoming the digital equivalent of ancient promotion methods. 
Social media today is the ultimate 'word-of-mouth' tool, while internet ads tailored to the needs of the consumer are the modern-day public proclamation in the town square needed to reinforce team loyalty. 
Sports marketers that can successfully engage with their customers and foster brand loyalty hold the keys to a bright future. A loyal fanbase boosts the revenue that drives the club forward and safeguards against lean patches; increases the prospect of acquiring more fans through referrals and the 'passing down' of support to future generations, and helps stop existing supporters from jumping ship to sporting rivals. 
Today's diverse and competitive sports industry makes building brand loyalty difficult, but with a deep understanding of the forces driving customer habits today, those working in sports marketing have a fighting chance. 
[Looking to build more loyalty for your sports brand? Fanprime's direct-to-fan rewards program allows you to pinpoint your most loyal customers, collect first-party data, and maximize your return on investment within one smart package.]
The 4 factors driving brand loyalty in professional sports today
If we take the modern approach to build brand loyalty in sports as a multi-faceted strategy, then fan engagement is the glue that binds these factors together. 
Without communicating with your club's customer base and responding to their needs, then any prospect of fan loyalty goes out of the window. 
Here, we're going to break this strategy into four essential factors that drive modern sports brand loyalty campaigns, each of which have effective fan engagement at their core.
1. Tapping into fan emotions
Sport is an emotional experience. 
Just ask any fan caught up in the live matchday event, especially when their sports team scores a goal or hits a home run. 
As someone connected to your club, you'll have seen how this emotion runs deeper than the live event, too. Often sports fans hold a personal connection to their team through a family line in which their ancestors were also fans. 
Sports marketing strategies that can tap into these emotions, and make supporters feel part of a sporting family are more likely to build long-term customer loyalty. 
Like in any strong family unit, listening to fellow members and responding to their concerns is essential. Modern first-party data collection methods, such as direct-to-fan rewards platforms, allow sports marketers to do this effectively by cutting out third-party social networks and fan agencies to access what fans are thinking and feeling directly. 
These modern techniques enable them to discover fans' needs and identify that top tier of superfans who are investing the most time and attention into their favorite team. It's also useful for sponsorship deals where club partners want to find out more about the market they're advertising to.
With this invaluable data, sports marketing managers can then create tailored promotions that speak directly to the fan, as well as demonstrate that the club is taking their concerns on board. 
It's a cycle of listening and providing that fosters the familial feeling between club and fan and increases the chances of the two sticking together through the long run.
2. Creating a digital community spirit
Outside of the club/fan relationship, an important driver of sports brand loyalty today is showing the fan that they are part of a wider community. 
The digital world has opened up new ways of connecting with fellow sports fans that extend far beyond the stadium. Not only are clubs orchestrating interactive social media campaigns where fans can talk with their peers in comments sections, but digital hubs such as online forums and fan platforms are helping to build a thriving virtual ecosphere for supporters. 
Virtual communities have become increasingly popular following the pandemic, and are now a trusted way of boosting fan loyalty for many organizations. Sports fan relationship specialists Havas Sports recently published research that underlines this trend. 
Their fan relationship model places an online community at the center of a modern brand loyalty strategy, with their research finding how having a platform with affinity content and social conversations can lead to a 20x upturn in engagement. 
Bolstered by targeted offers and fan rewards, this leads to a quadrupling of the conversion rate, and double the average spend per user.
                 How a fan community adds value to every stage of the fan journey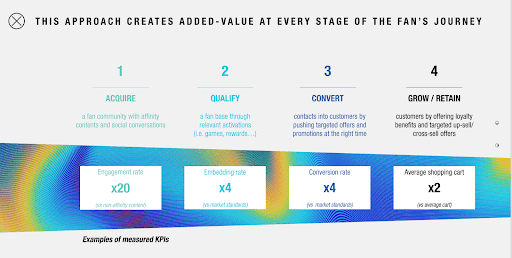 Source: Havas Sports
Havas Sports, a business partner of Fanprime, has proposed performance-based loyalty programs to sports clubs which give them the tools to build a powerful digital community. Direct-to-fan solutions customized for rights holders allow clubs to reward community members for their engagement, and interact with fellow supporters via integrated social media touchpoints.
By tapping into the intrinsic human need of belonging to a group or tribe, club marketers have the chance to build powerful brand loyalty between members who feel an affinity with their group peers, as well as the club. 
It's also a great way to steal a march on rivals. Almost two-thirds of sports organizations with a major social fan base have no fan relation programs in place, according to Havas's research. 
3. Providing benefits for all group members
Gone are the days when a one-size-fits-all strategy of in-stadium amusements was enough to keep every fan demographic happy. 
Today's sporting crowd demands various entertainment options before, during, and after matchday.
Having a wide range of effective rewards strategies is one way of keeping interest high.
For the older demographics, such as boomers and early millennials, matchday communications and social media outlets like Facebook and Twitter are still efficient communication channels through which clubs can showcase special offers and discounts, and keep fans hooked on their passion.
But as we move down the age scale toward the 'Gen Z' demographic (those born between 1999 and 2010), research shows that there's a greater demand for engagement outside of the live matchday experience among young fans who are used to virtual interactions 24/7. 
                     The declining importance of live events among young fans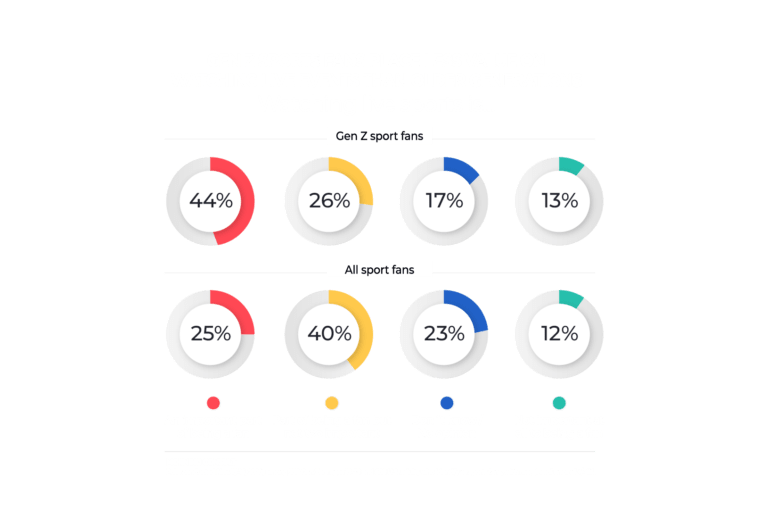 Source: Morning Consult
Providing the latest tech tools forms a huge part of this — more of that in the next section — but above all young fans want to feel like they can connect with their team whenever they want. If not, they'll just take their interest to any other of the thousands of entertainment options at their fingertips.
A key to building customer loyalty among this more fickle demographic is by offering them a wide range of entertainment options within an easy-to-access package. Sports clubs must offer gamification, streaming products, and exclusive experiences that appeal to younger fans and keep them engaged outside of matchday.
Fan rewards platforms are an effective way of doing this. By rewarding users with points for online interactions which they can exchange for club-related perks, they gamify the fan experience and feed the younger crowd's hunger for constant engagement.
The sooner clubs provide these benefits to their youngest fans, the more likely they are to retain their loyalty for the long haul.
4. Harnessing the latest technology
The rapid digitization of sports entertainment has something that we're all familiar with at its core: social media. 
The original social network Facebook is still a popular medium, along with old favorites YouTube and Twitter, but a new wave of platforms are changing the way we consume online content. Networks that focus on short-form videos, gifs and memes, like TikTok, Instagram and Snapchat, encapsulate the frantic, impatient nature of today's internet. 
Sports clubs that can adapt their content to each of these online forms stand the best chance of resonating with their customers and building strong brand loyalty. 70% of sports teams in the top 10 US and European soccer leagues now have a TikTok account, with averaging millions of followers per team.
                     The stunning impact of TikTok on Europe's top football clubs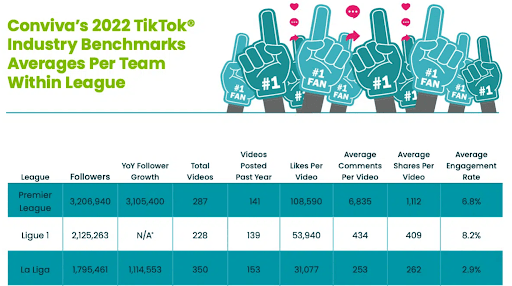 Source: Conviva 
Aside from social media, clubs that embrace powerful new digital tools centered on Augmented Reality (AR) and Virtual Reality (VR) are finding new ways of boosting fan engagement. More than 54% of fans say they would be more likely to watch a sports game if VR seats were an option, according to Deloitte research.
AR and VR features built into the fan experience are transforming how we watch sport, and clubs can easily integrate them into a tiered rewards model within a fan platform. These could range from having an AR-powered virtual selfie with players to unlocking access to state-of-the-art AR goggles that mix the real and virtual worlds by superimposing game stats onto the field during play and choosing their own replays.
Blockchain-based technology is also an increasingly potent option to have. Club-related digital tokens not only reward fan interactions but also help them feel part of that all-important virtual community, while NFTs can showcase compelling 'once-in-a-lifetime' fan experiences. 
Again, fan loyalty platforms allow club marketers to bring all these technological perks together in one place, via the integration of social media touchpoints and using a rewards system to unlock revolutionary digital experiences. 
Sports clubs that don't take their fans for granted, but instead focus on building loyalty via multiple streams, are the ones most likely to prosper in the long run. 
Ready to power your brand loyalty strategy with a direct-to-fan rewards platform? Contact Fanprime to take the first steps toward boosting fan engagement, monetizing fan interactions and building new long-term revenue streams.