How Digital Fan Engagement Platforms Are Seizing the Direct-to-Fan Revolution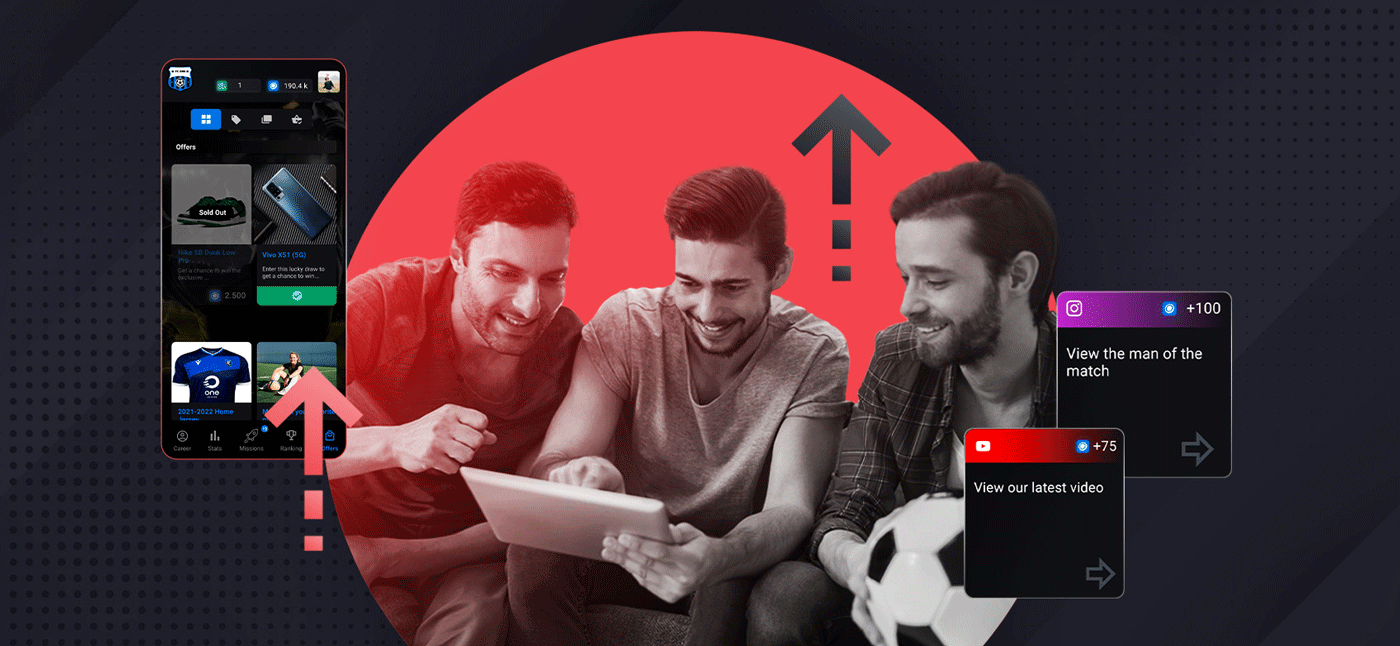 Sports clubs and organizations seeking to better monetize digital sports fan interactions are finding that this emerging B2C model holds all the answers.
In 2022, digital fan engagement has made a shift to focus more on direct-to-fan relationships, which have become a Top of Mind topic for sports club marketers and CEOs keen to keep up-to-speed in an ultra-competitive sports industry that is increasingly interacting online.
Yet, despite all their desire to win in the digital space, sports organizations have been kept at arm's length from their fan base because their marketing campaigns and related data remain tied up with social media, online publications, and other popular digital platforms.
That is because these three channels all have one thing in common: they don't allow access to the data of their audience and they only allow a limited organic reach when users post on their channels. This means that – paradoxically – the channels meant to connect sports clubs with fans still require them to buy advertising to reach their own community.
It's no wonder that most sports clubs or organizations only have registered contacts for less than 5% of their total fan base. In the case of FC Barça, the famous football club only "knows" 1% of its fans, a fact that reportedly almost cost the club a lucrative deal with Spotfiy.
As we enter a new era of Web 3.0 technology, digital fan engagement not only offers sports entities a direct route to their fanbase, it also prepares them for the seismic tech challenges and opportunities that lie ahead. Current trends show that digital sports fans are all over the web — social media, streaming platforms, eshops, and official website usage are all on the up — and they are ready to embrace emerging technologies as a way of better connecting with the object of their passion: the sports club.
A key tool lies at the heart of this movement.
Today, customizable club-run digital fan engagement platforms are now embracing direct-to-fan relationships by empowering sports firms to take control of fan data, opening up new lucrative revenue streams, and giving fans their own 'slice of the club' as part of the deal. A points-based system that rewards fans for their social interactions, and incentivizes them to do more, is the driving force behind these platforms; a two-way dynamic that makes them ideally suited to the new era of interactive web services.
Current trends show that embracing direct-to-fan relationships won't just give social media networks a bloody nose – they're also set up sports clubs to prepare for what's coming next by offering a Web 3.0 marketing tool that sports bodies can't compete without.
The 3 stages leading to the rise of digital fan engagement platforms
This digital shift shouldn't come as a surprise: the sports industry has experienced changing consumer habits throughout its history, albeit at a slower pace than what we are now seeing.
Microsoft, a company whose success is built upon an innovative and forward-thinking business model, published a white paper on fan engagement ahead of its launch of a fan engagement platform with soccer giant Real Madrid.
In it, the tech giant set out three stages that mark the trajectory toward the current digital shift. We can summarize these as follows:
1. The 'leaning-back' experience
The original way of consuming sports content involved buying a ticket for the event or possibly watching it on TV; the latter becoming more likely during the second half of the 20th century.
Both activities are passive, or 'leaning-back', activities with one-way communication between club and fan, and they involved straightforward, if limited, marketing campaigns through print media and live at the sports arenas.
2. Internet growth and the beginning of two-way interactions
The advent of the internet provided new ways for sports organizations to contact their fans via new digital channels, such as websites and forums. Marketing teams broadened their campaigns to include fans in other parts of the world, opening up new revenue streams in the process.
The second stage of this development, which we can classify as Web 2.0, saw the growth of social media and an explosion in dynamic content. Fans could now contact their heroes directly via platforms like Twitter and streaming service Twitch, resulting in the first two-way interactions between clubs and their consumers.
Real Madrid is a good example of this, with hundreds of millions of followers across three major networks, as of 2022. Widespread smartphone use means that clubs can instantly beam promotions and offers into the hands of their vast fan bases at a fraction of the time and cost of previous marketing efforts.
3. Today's emerging stage: Digital fan engagement
Digital fan engagement is just the next stage in this journey, although it represents a leap forward rather than just the next step.
Rapid technological change is ushering in a new era of online interaction that harnesses the power of Web 3.0 technologies. Innovative tools like blockchain, NFTs, and tokenization are based on empowering the individual and are fast becoming part of the zeitgeist of our time.
In the sports industry, the lack of in-fan experiences brought about by pandemic restrictions has accelerated this shift, creating a perfect storm of changing customer habits and quick tech advances.
In the post-pandemic world, clubs are having to find ways to adapt — and fast — and we're now seeing some major examples to go along with Madrid's Microsoft adventure.
[Ready to step onboard a fan engagement platform that will animate and monetize your club's superfans? Contact us to find out how we can help your company build its own direct-to-fan reward solution that will allow you to capture priceless fan data and tap into lucrative new revenue streams.]
The anatomy of the digital fan engagement platform 2.0
If you're the marketing manager or CEO of a sports organization, then you may find the prospect of switching to such a complex-sounding tool to be a daunting one — especially if you have little experience dealing with the area of direct digital fan engagement.
At Fanprime, we have used our extensive network of clients and partners to finetune the transition to direct-to-fan digital platforms so that you barely notice the switch. Going forward, you'll see how it brings together three central benefits of digital fan engagement that your club will start to see right away.
Once set up, you'll have the keys to a new long-term relationship with your fanbase, offering them exciting new ways to get rewarded with online social interactions.
Open up a direct line with fans
The dawn of the social media age gave sports organizations an outlet to mass-communicate promotions to their fanbase on an unprecedented scale.
Yet, the companies who own these networks have created a barrier between the two, meaning clubs only have access to partial or siloed data on who their fans really are.
In short, sports organizations receive little bang for their hefty marketing buck in the context of a data-driven world.
Fanprime's B2C model solves this issue by cutting out the middleman, enabling clubs to interact directly with their follower base. By employing a fully-responsive app that fans can access via multiple devices, sports clubs and organizations gain direct access to detailed fan analytics, such as their interaction frequency, their likes and dislikes, and how long they spend online. With this knowledge, clubs can find out who their 'superfans' are and target them with specialized promotions.
In return, fans get a personalized interface that feels designed specifically for them.
Instead of the generalized 'one-for-all' feel of social media campaigns, they get tailored offers, rewards, and 'money-can't-buy' experiences.
This offers something tangible, something they can show off to friends, and something that makes them feel part of the club.
Below is an example of the personalized interface that fans see on the Fanprime platform, including their reward points total, exclusive offers and a superfan leaderboard.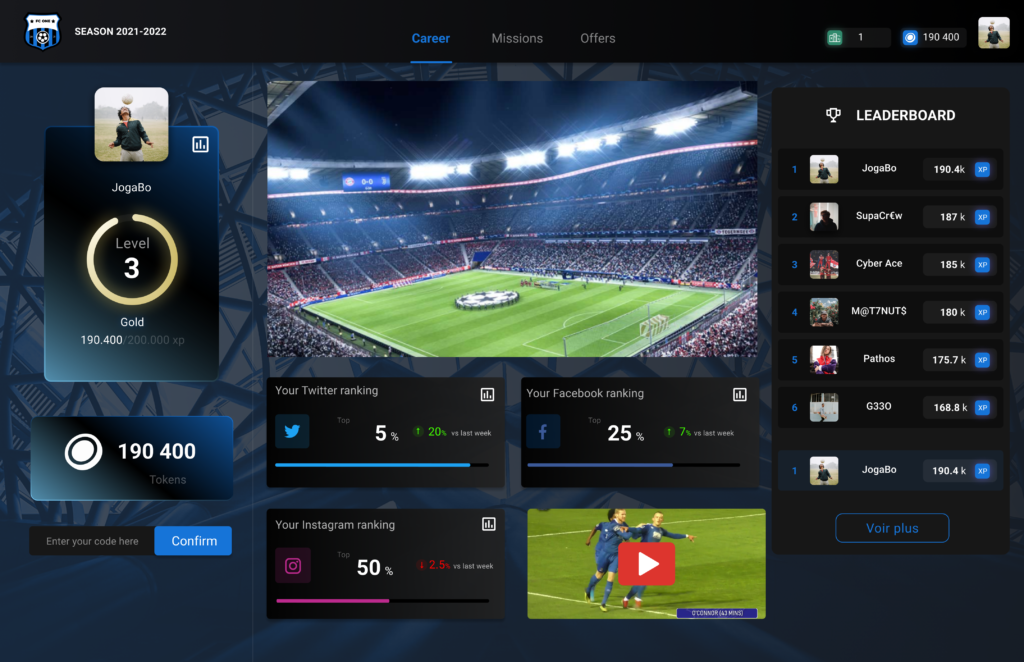 Activate a rewards/revenue loop
The low organic reach of social media campaigns leads to a poor ROI that is counterproductive. Marketing success is in the hands of unpredictable algorithms, or the competence of fan engagement agencies who often subcontract work to other companies adds new layers of unnecessary complexity.
To correct the status quo, Fanprime allows clubs to monetize each and every sports fan interaction on social media or digital platforms by creating a lucrative rewards/revenue loop that can quickly snowball.
Fans fuel the loop by 'earning and burning' points in return for rewards.
Here's how it works:
Fans log in to their customized dashboard and earn loyalty points for each interaction.
They can then exchange or burn their points for tempting rewards, such as:
Member advantages: get discounts, private sales, limited edition merchandise
Exclusive privileges: access to "money can't buy" experiences, memorabilia, etc.
Digital collectibles: get whitelisted as a superfan of the club and get access to pre-sales of digital collectibles or discounted club tokens
The prospect of earning further rewards, plus the envy of fellow fans who want their own piece of the action, fuels more interactions, and the loop starts again.
This loop puts the sports club or organization in control of its investment, and Fanprime allows it to keep track of its ROI via instant revenue updates. It also saves vital revenue that would normally be lost on expensive social media campaigns and agency fees.
Below is an example of a customized special offers page that fans see as soon as they sign up.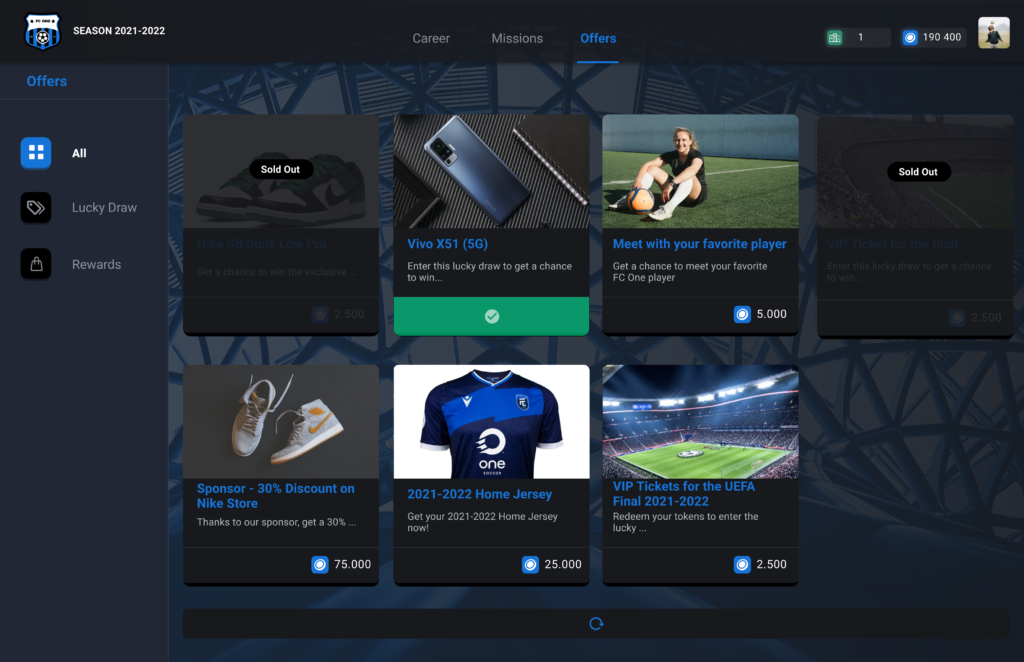 Get Web 3.0 Ready
Fanprime's platform is built to accommodate emerging technologies that are predicted to dominate the sports market for years to come.
Already suited to launching blockchain-related NFTs and tokens that are part of today's tech scene, a digital fan engagement platform is scalable in nature, making it the ideal springboard for embracing the latest developments as soon as they happen.
What's more, adopting the platform puts clubs at the forefront of digital change, helps to build a reputation as a forward-thinking enterprise, and keeps it ahead of rivals. It's the virtual fan house of the new era, the SAAS solution that helps clubs and fans connect the dots.
Yet, despite being at the vanguard of digital change, Fanprime is remarkably simple to set up.
Here's how you can get started in just a few minutes:
Contact Fanprime to activate your account
Customize your club's unique interface with its own colors and logos
Add club social networks, stream and e-shops
Fill your personal dashboard with special offers, fan quests, and rewards.
Here is an example of a customized club page, complete with links to fan's social networks.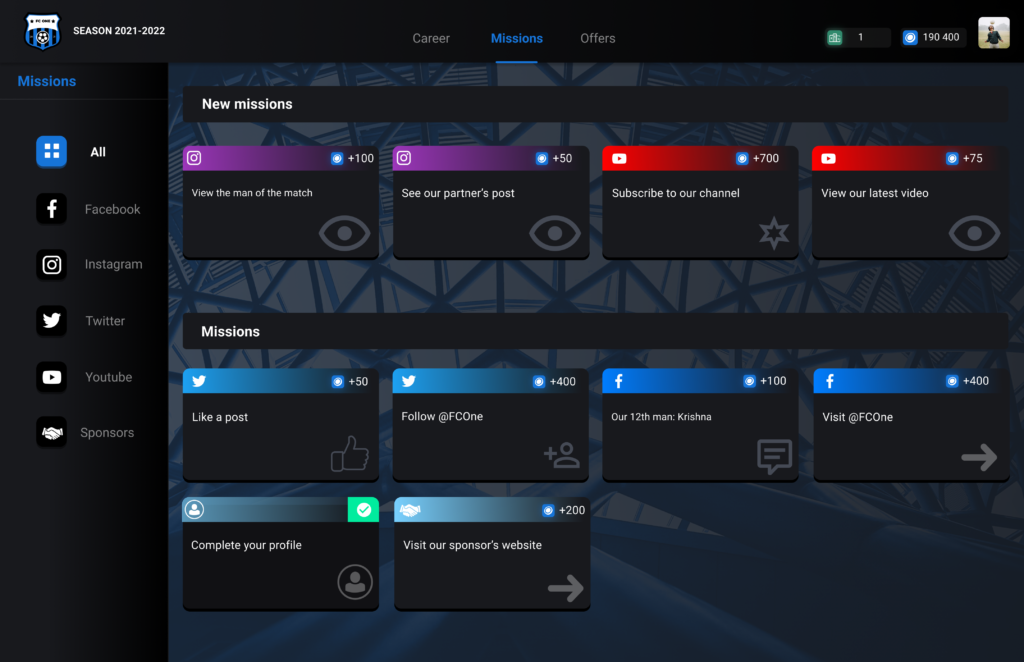 Be a part of the next digital wave in sports marketing
Much like events on the field or court, the sports industry never stands still: to do so can be deadly.
Fan engagement platforms are a key vehicle through which sports bodies can embrace this change. It allows them to discover swathes of new fans while knowing existing ones better; provide unique opportunities to fans whenever and wherever they want; and maximize monetization potential at the same time.
But perhaps the defining feature of this complex and powerful system is just how easily it puts fan engagement back into the hands of sports marketers.
Identifying superfans, collecting invaluable and accessing untapped revenue streams are all within reach, for the first time ever.
Get in touch with Fanprime to find out how we can turn all these possibilities into reality today.