Esports Marketing Case Study: Using Fan Rewards To Hit 6,000 New Sign-Ups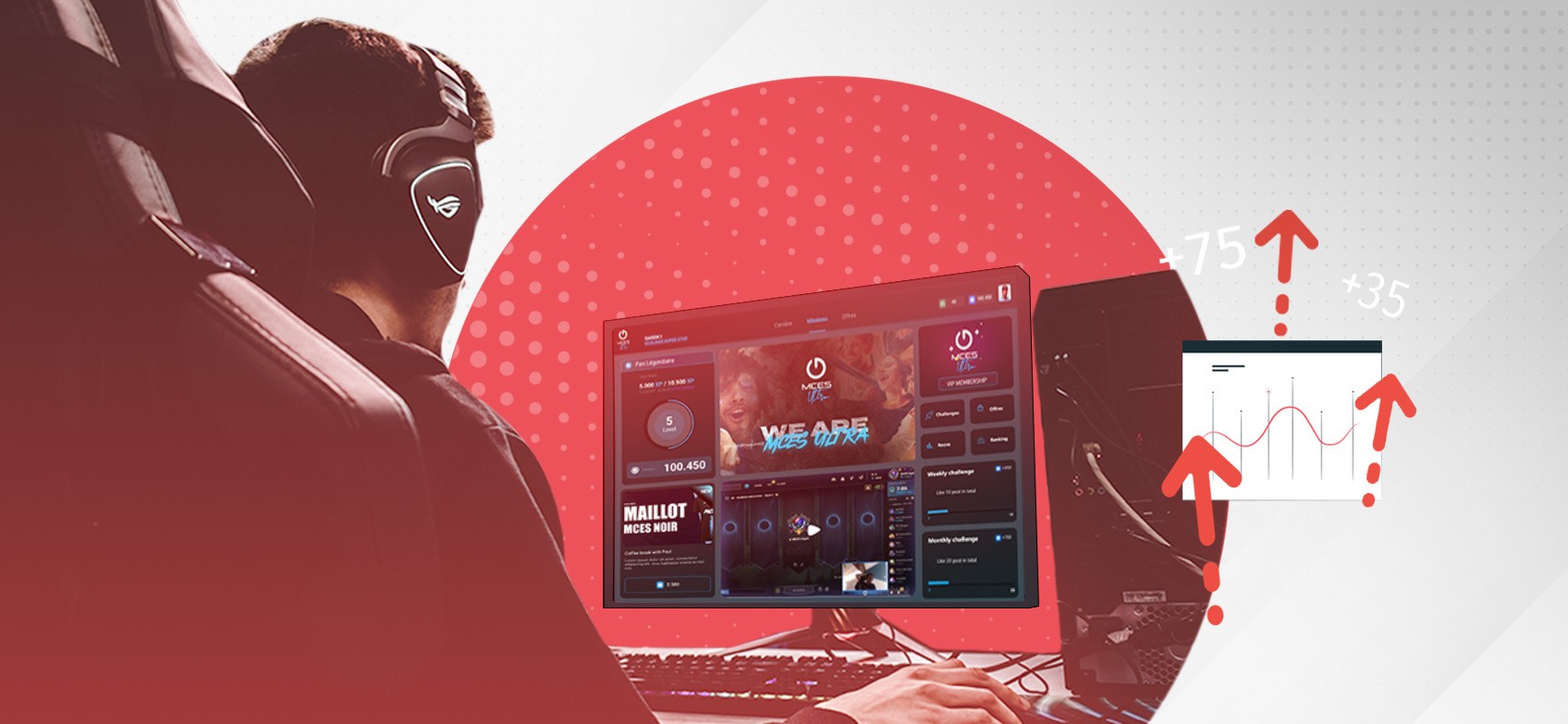 Esports club MCES saw a boom in user sign ups after launching a new points-based fan rewards program, which generated an additional €10-15 per active user per year
Electronic sports, best known as esports, is a thriving industry that today provides digital marketers with increasingly innovative esports marketing case studies to use as a blueprint for their next campaign. 
But despite the rapidly developing technological nature of esports, many marketers still find it difficult to apply new technologies to effectively work with marketing campaigns in this industry. 
Digital sports marketers, in particular, often experience the following issues:
A difficulty grasping what increasingly diverse esports fans are looking for

Poor user experience for marketing teams on live streams and social platforms

A failure to maximize the collection of valuable fan data
In esports today, new technological platforms that support better engagement through sports fan rewards – providing point-based systems that reward fans for each online interaction – are becoming a popular way to connect all the above dots. 
Moreover, fan rewards programs help to build an ideal platform to unify the top revenue-generating segments of the industry, such as through digital rewards campaigns with sponsors, directly connecting with superfans, and offering new digital assets as revenue streams. 
  An overview of Esports 2021 market revenue by segment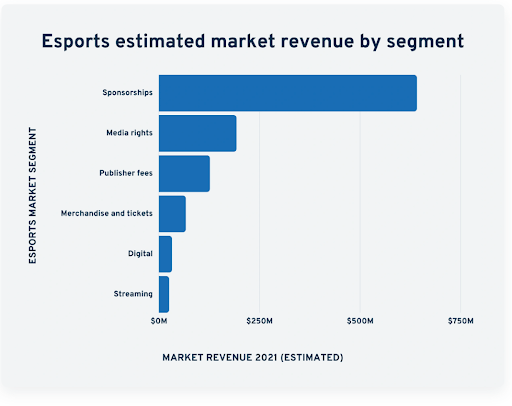 Source: Newzoo 2021
In this article, we're going to take a deep dive into how Fanprime is helping digital marketers best utilize fan rewards platforms right now. 
To illustrate this, we'll focus on an esports marketing case study of one of our clients, Team MCES, a leading French esports club based in Marseille. 
But first, what is it about esports that makes it such a potent and profitable industry?
Let's first review the esports marketing potential dejour, especially how sports marketers for traditional clubs and organizations can also bridge the gap to get a slice of this fast-growing industry. 
Looking for new ideas to launch your next esports marketing campaign? Fanprime offers an innovative fan rewards platform that can help your organization directly connect and identify superfans, collect valuable data, and maximize marketing returns in one stroke.
Why esports marketing is set to flourish, even for traditional sports clubs
Today, the potency and appeal of competitive video gaming are there for all to see. 
According to a recent Newzoo report, esport's total audience will pass the 640-million mark by 2025, making it one of the most-viewed forms of online entertainment. 
Streaming platforms like Twitch and Facebook Gaming offer an immersive and inclusive experience for fans, providing a chat-based feature that runs parallel to the live content.
For sports clubs eager to connect with young fans who stream on a daily basis, embracing esports makes perfect sense.
PSG and Manchester City, two of the world's biggest soccer clubs, have esports teams that regularly compete in top competitions. 
But what is it about esports that makes it such a powerful content marketing tool? 
The answer lies in three fundamental characteristics.
1. It allows you to reach an engaged (and affluent) audience
Esports followers are the ideal captive audience. 
Marketers know that they've already invested in what's happening in front of them, and have their undivided attention. 
PSG and Manchester City, for example, are easily able to advertise sponsors that are placed on the shirts of their esports players, not to mention related merchandise before, during and after games. 
Secondly, according to research from marketing firm Interpret, esports fans tend to be male millennials with high disposable income. Almost a third earn over $100,000 a year, making them spend big on electronic goods and subscription fees. 
Put together, this highly engaged, affluent demographic gives brands the perfect chance to generate significant recurring revenue. 
2. It opens up new revenue streams
Esports offers a gateway to innovative product ideas for fans most likely to respond to them, enabling sports organizations to explore lucrative new revenue streams.
Many traditional sports clubs have already taken one such step through ventures into the world of non-fungible tokens (NFTs) and blockchain technology. 
A classic example is the NBA Top Shots series that rode on the wave of the NFT boom by offering digital collectibles to online fans. These featured classic NBA moments from some of the sport's biggest stars and prompted a spectacular reaction from avid followers. 
A year from its launch, the series was still generating a 30-day revenue of over $53 million.
Esports entities are in an ideal position to capitalize on such opportunities. Their followers tend to be extremely tech-savvy thanks to their familiarity with computer games and related software. This makes them more open to making online purchases of digital assets and offers, such as digital avatars and skins, NFTs, or adopting a virtual club currency.
Like with traditional sports teams, an esports fan base contains 'superfans', dedicated supporters who want to consume as much about the club as possible. Also known as 'whales', this demographic represents an ideal revenue opportunity that the club can target with specialized offers, such as digital collectibles.
3. Esports advertising offers better value for money
Following the pandemic, sports clubs have been compelled to count every cent they spend and with good reason: the US sports industry lost more than a third of its value in 2020, according to PwC, the accounting firm.
The good news for them, then, is that marketing through esports can offer the potential for much better value for ad spend. 
Consider audiences. In 2021, several esports gaming finals, such as the League of Legends tournament (4.01m viewers), outranked both US Open tennis finals (average 2.25m). To this larger audience, esports advertisers have a set of digital tools open to them, including specialized in-game commercials, dynamic ads that are seen by the viewers, not the players, and the use of popular esports influencers. 
An Esports Marketing Case Study: How MCES Ultra attracted 6,000 new sign-ups
One brand that has seen the value of effective esports marketing is Team MCES. 
With a team of award-winning professional players and five state-of-the-art training centers, MCES was already one of Europe's leading esports clubs before Fanprime came along to offer a new fan rewards platform. 
The MCES method is to provide all the necessary sports science techniques to players to improve their performance with their expert team.
With an ambitious outlook under the guidance of CEO Romain Sombret, the club was ready to apply this champion mindset to their digital marketing campaigns. 
1. Challenge
After recently expanding into Italy and Africa, MCES had big plans to bridge the gap between esports and traditional sports, and to earn the status of a top real-life sports club.
However, to be a household name, they had to start marketing like one, and that meant meeting three fundamental goals. 
Rewarding their loyal community of followers by offering an immersive

fan experience

Monetizing fan interactions and building new revenue streams

Collating and utilizing first-party fan data to understand what fans

really

wanted. 
Romain Sombret saw a way of neatly bringing these three objectives together by enlisting the help of Fanprime. 
According to him, Fanprime's fan engagement platform was the ideal way to showcase MCES's innovative marketing ideas to fans while setting up direct channels for interactions between partners, sponsors, and the fan community.
A brand new fans reward program, MCES Ultra, was born.
         The MCES Ultra sign-in page, with Facebook and Google touchpoints

2. Strategy
Fanprime and MCES came up with a simple yet powerful way of rewarding the esports club's fan community. 
For every single positive interaction on the club's Twitch account and related social media channels, be it one view, one like, or one repost, fans would receive a certain amount of the club's digital currency. 
They could then exchange this 'virtual kitty' for exclusive gifts and once-in-a-lifetime experiences, ranging from autographed team jerseys to training sessions with one of the players. 
The strategy attempted to fulfill the three marketing objectives simultaneously: building stronger ties with fans by offering unique rewards, promoting the club's subscription-based Twitch model, and accessing vital data about its most engaged followers, otherwise known as super fans. 
The hope was that the strategy would build stronger links with the MCES fan base.
After all, being 'highly connected and digitally native', as MCES Chief Revenue Officer Sylvain Vachier describes them, made them perfectly suited to Fanprime's innovative fan rewards platform.
  MCES's 'Careers' page with special offers and leaderboard showing players' 'virtual kittys'

3. Results
Even taking into account that MCES Ultra is the first fan loyalty program in Europe that rewards fans for their digital engagement, the response has been impressive. 
The launch team was able to get out of the starting blocks quickly thanks to Fanprime's simplified turnkey proposal. According to the MCES Chief Revenue Officer Sylvain Vachier, staff found managing the software simple and intuitive, allowing them to easily adapt the platform to a personalized club skin and add special challenges.
The campaign attracted 6,000 new sign-ups within six months of the launch, with more than 100 social interactions per user. This generated an extra €10-15 in additional revenue per active member, leading the Chief Revenue Officer to hail the results as "way beyond our expectations".
Moreover, six months on, over 70% of tokens gained by these 6,000 new users have been burnt, showing that the rewards system has been actively engaging. 
MCES's fans now had something that forms the backbone of traditional sports clubs: a vibrant community, known as the MCES Family, where fans could interact with players, take part in Premium events and challenges, and simply have fun.
The campaign had established a quick, simple way to structure and monetize the club's fan ecosystem, and open up numerous opportunities for future campaigns.
                              MCES rewards online interactions with your team and sponsors via club tokens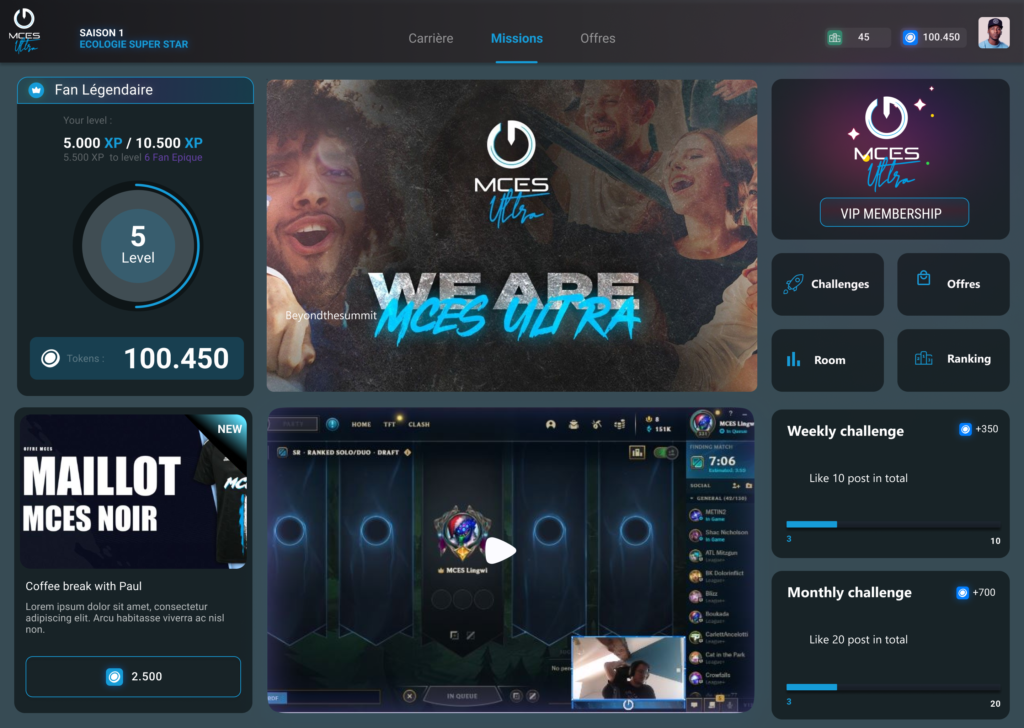 Lowland Lions: forging deep two-way fan interactions
Another esports marketing case study that is worth briefly touching upon is with the Netherlands-based outfit Lowland Lions (LLL).
After reforming in 2020, LLL teamed up with the KAA Gent soccer club in another example of an esports side aiming to operate on an equal footing to traditional sports organizations.
LLL's founder Filip Langerock was keen to not only increase his organization's reach, but also to show the esports community the deep two-way interaction they had with their fans. He brought Fanprime on board to help with this, with a view to providing a digital hub where every club stakeholder could interact. 
The results were impressive, and Filip was enthusiastic in his description of the platform. 
He described how fans "love the environment because of the gamification, offers and challenges they get", and that "Fanprime is probably our most valuable asset when talking to (future) partners".
Using the platform's specialized APIs to integrate several club social media channels, LLL saw a big increase in fan engagement, particularly on its Twitch and Twitter accounts. 
Buoyed by the speedy Fanprime response system, Filip said that he feels that the initial response is just the tip of the iceberg when it comes to what the partnership can achieve. 
Watch this space for future developments!
Check out LLL's platform introduction here.
Looking to replicate the success of these projects at your club? Contact Fanprime to discover how our turnkey solution puts you on the path to monetizing fan interactions and tracking valuable first-party data within minutes.