Looking for a Fan Engagement Agency? Try a Direct-to-Fan Rewards Program First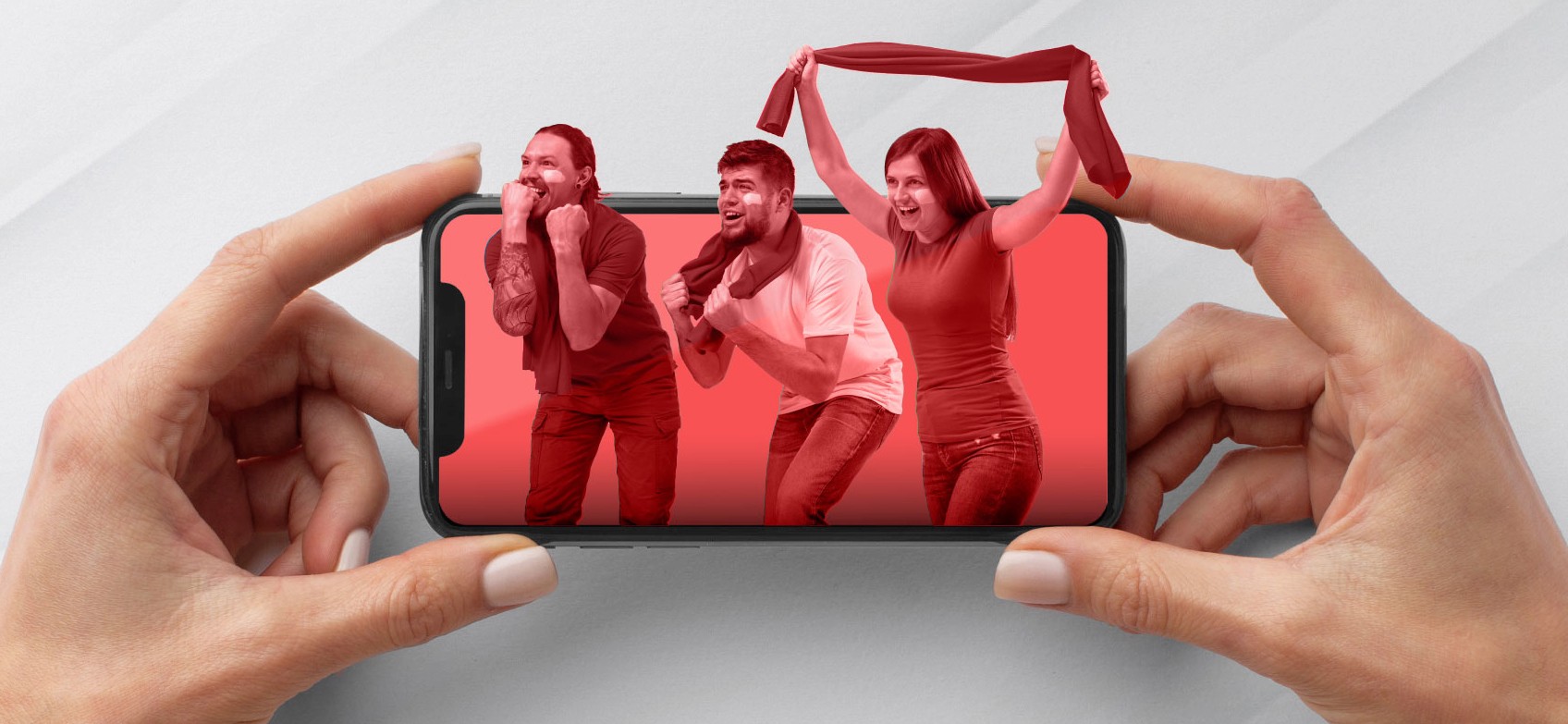 Direct-to-fan rewards platforms are set to maximize data monetization, all without the need for a fan engagement agency.
In the fast-moving world of digital marketing, sports clubs and organizations continue to seek innovative ways to connect, engage and animate their fan base. Today, however, the age-old practice of using a fan engagement agency cannot meet the demands of an increasingly data-driven world.
Instead of fostering new online fan interactions, club CEOs and CMOs often find out that a fan engagement agency:
Only create siloed data that remain "stuck" in social and digital platforms
Depend on one-off activations without long-term upselling power
Lack perspective of the 'Web 3.0' potential of doing things
Charge high project management fees
Today, sports clubs have begun to realise that fan data and direct-to-fan monetisation are the new gold for the next decade. While many marketing teams have invested tons of resources over the past 10 years in building audiences on third-party platforms (such as social and streaming networks), these platforms have now blocked them from directly benefiting from fan data and direct monetisation.
Think outside the "fan engagement agency" box: Reward superfans with something they'll love instead
Every fan wants to feel part of the tribe: it sparks the passion that makes sports so special.
Using a direct-to-fan engagement platform like Fanprime will allow clubs and organizations to give back to fans something that feels like theirs.
Via a personalized interface, sports fans will receive loyalty points for each online interaction and receive incentives to become more active online. Those that are the most engaging with your online social and digital platforms will enter into the exclusive 'Hall of Fans': a badge of honor reserved for the most dedicated supporters.
The result is a positive feedback loop that drives further interactions between sports fans and the club.
Customize a unique interface that appeals to fans
White-label platforms like Fanprime will give marketing teams the power to forge an interface in the club's image, complete with team logo, colors, unique fan status rankings, specialized tokens and more.
The platform allows a digital gateway to monetizing fan interactions that a fan engagement agency cannot provide by giving digital marketing teams direct access to fans.
Acting as the "Shopify of fan engagement", Fanprime allows fans to connect their social media channels to the sport club or organization's loyalty platform via a large network of APIs, giving clubs the ability to track where and how fans interact across the internet.
With this kind of priceless fan data, sports marketing teams can launch specialized promotions and new direct-to-fan perks within the platform's easy-to-use interface.
Here is a screenshot of just what the Fanprime dashboard looks like: Find sports fan 'whales'
With no middle person to go through, sports marketing teams are just a click away from invaluable user data.
Through Fanprime, they can finally identify who their top 5% of online superfans, or 'whales', are. These insights also open up a direct two-way channel with a demographic that creates 95% of brand value and a host of untapped B2C revenue streams for the fans who most want it.
Such exclusive rewards that 'whales' could be offered include:
Superfan privileges, such access to purchase premium tickets and exclusive merchandise.
Access to the 'Hall of Fans': an exclusive top tier leaderboard of superfans in your Fanprime-hosted loyalty program
Limited edition NFT superfan cards, which can be bought and traded, or a chance to own the club's own social tokens
Opening up these new revenue streams creates opportunities for instant ROI, which can be equivalent to an increased monthly revenue of a minimum of 1€ per fan – without worrying about any extra commission due to fan engagement agency contracts.
Some additional revenue streams for the sports club or organisation can come from:
Upselling on merchandising and ticketing
New B2B sponsorship revenues: the platform is a new asset for sponsors to enter into direct discussions with the best fans
New B2C digital products: boosters, membership fees, or NFT sales
Use Web 3.0 to put control back into the club's hands
Going through a third party to engage with fans already feels 'old-world'.
In a competitive industry where standing still is lethal, staying ahead of the tech curve holds the key to long-term success for sports organizations.
Sports clubs and organizations (like so many other industries) are looking at the infinite possibilities of Web 3.0 right now, especially the prospect of creating a sports fan metaverse where clubs and organizations can generate personalized physical and digital experiences for each fan, based on their individual profiles and levels of engagement.
At its core, Web 3.0 is the economy of tokenization, which means that sports clubs and organizations will soon be launching their own tokens, creating an internal digital economy where fans can buy and sell digital products.
This economy will need its own ecosystem and storefront to thrive, which is where a Web 3.0-focused fan engagement platform will be needed.
Fanprime empowers sports clubs and organizations to identify and recognize their best fans based on Web 2.0 principles, using rewards and incentives as levers to encourage the fans to take more action, whether it's to renew a season ticket, get a friend to sign up, or buy club merchandise.
Hitting different points levels triggers new quests for the fan to complete, which enhances their position on the live leaderboard where they compete with fellow fans.
As Web 3.0 emerges, superfans will have opportunities to certify their fandom so that they share it proudly, get access to lifetime privileges, and earn money from it.
The upcoming tech revolution is daunting for some, but platforms like Fanprime can help harness the power of Web 3.0 in a simple and easy-to-deploy manner.
Get set up in just a few clicks
Fan engagement platforms like Fanprime sound complicated: after all, they contain many sophisticated tools and features.
But the truth is, that once you're set up, you'll have the power to quickly connect with fans, without the hassle of going through a third-party fan engagement agency.
Fanprime's team of experts have simplified the platform setup so that clubs can get going in just a few minutes. Here's how:
Get in touch with Fanprime to activate your account
Create your club's own unique interface, placing unique colors and logos
Integrate club social networks, streams and e-shops in just a few clicks
Add customized fan quests, special offers, and rewards, on your personal dashboard
Here's what your Fanprime dashboard will look like once you log in. We recommend starting by connecting all social and digital media platforms, as shown below.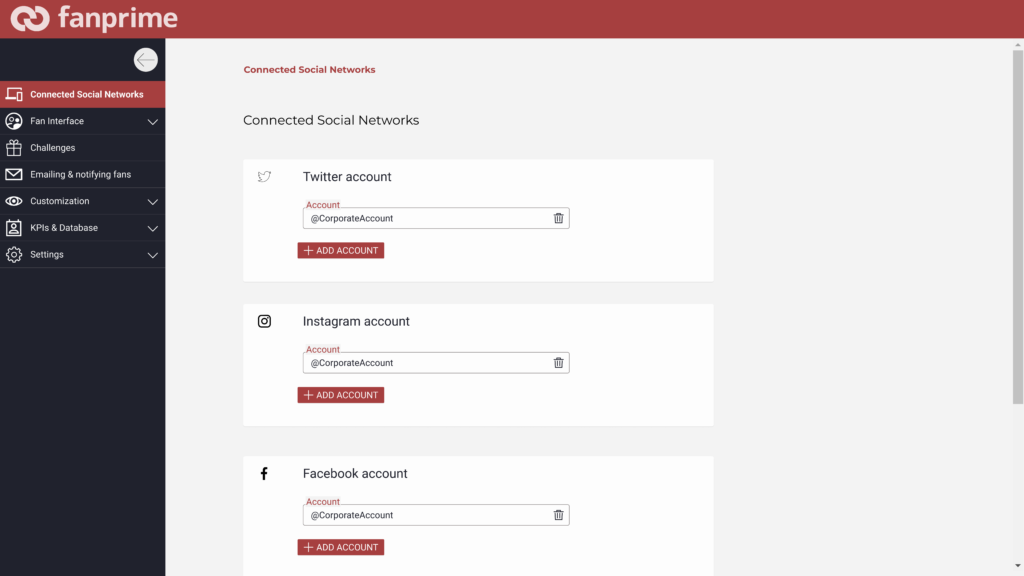 Note the easy-to-use navigation menu on the left of the screen.
From this central hub you can:
Connect all social and digital platforms
Customize your fan interface
Launch new exclusive offers and create quests
Monitor fan metrics, such as KPIs
Basically, the platform allows sports digital marketing teams to do the fan engagement agency's job for them, giving marketers full control and saving the club time and money in the process.
What your customized platform will look like for fans
Having an all-in-one white-label solution for professionals to use is one thing, but how will Fanprime feel for fans who may not be as tech-savvy?
The platform's easy-to-use interface makes it possible for any fan to use, regardless of their skill level or age. And they can choose to set up and use it on a desktop or a mobile device.
Once they've shared basic personal details to register, each fan's personalized journey starts with a few simple steps:
1. One-click connection to social media and digital accounts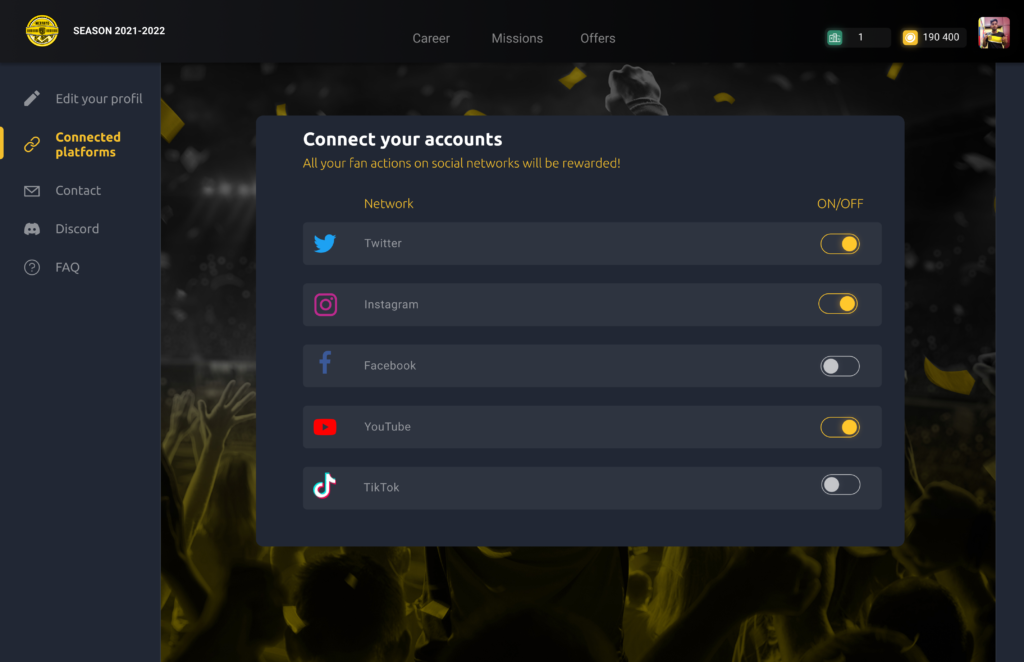 From the get-go, fans set up direct channels to the club; sharing invaluable data insights about their personal preferences, spending habits, and behavior.
2. Use star players to personalize each account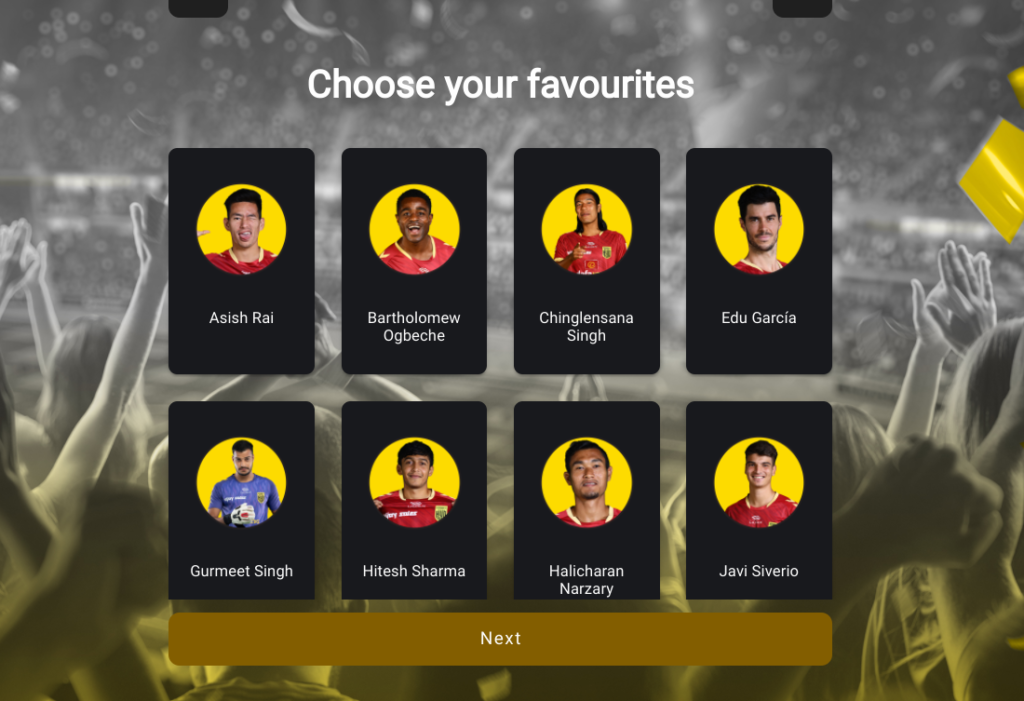 Fans choose their favorite players to receive personalized offers and quests tailored to their heroes. So, for example, if they choose their avatar to be Edu Garcia, they can win a signed poster of him.
3. Create a customized dashboard
Embark on a unique career – see current points tally, customized offers and a live leaderboard, all from a central hub.
4. Unlock new quests with points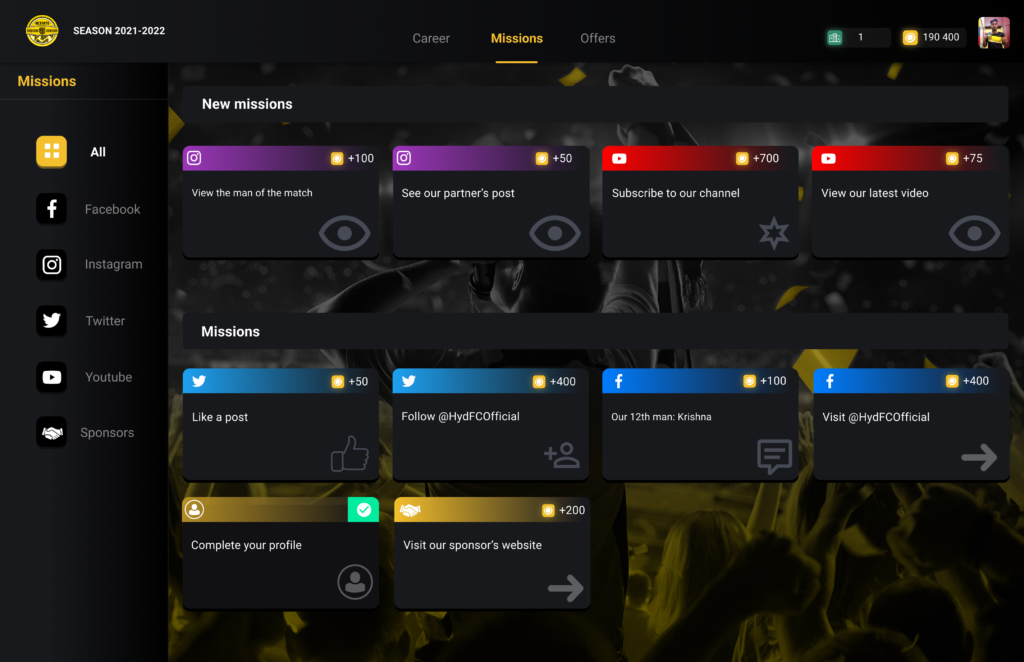 Hitting different points levels triggers new quests for the fan to complete, which enhances their position on the live leaderboard where they compete with fellow fans.
5. Access exclusive offers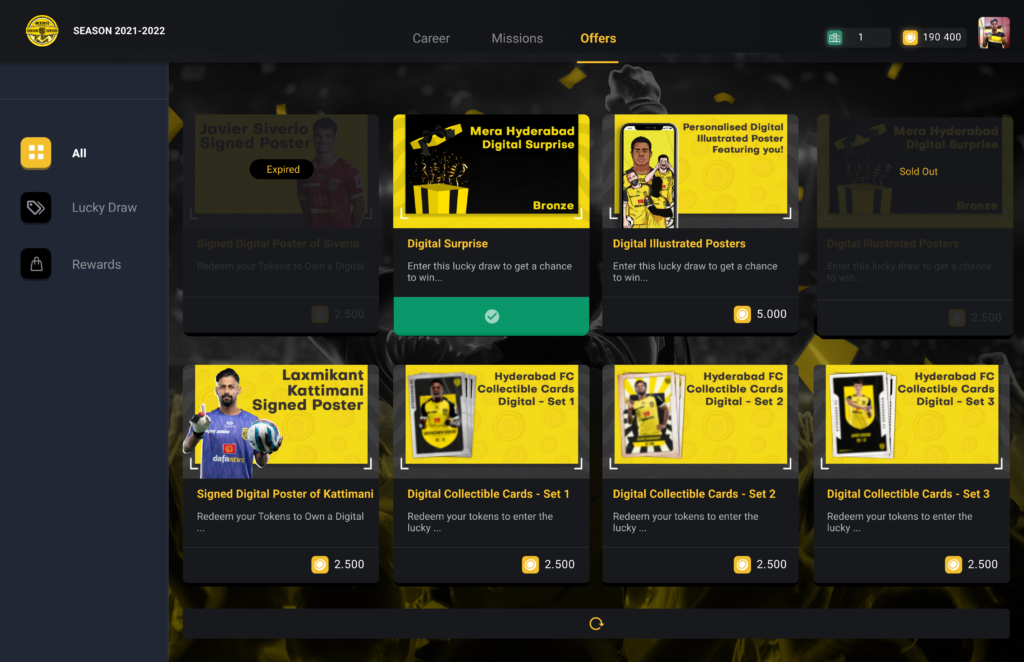 Fans can use loyalty points to get hold of exclusive merchandise and special surprises that make them the envy of their friends. This includes access to premium rewards, as well as unique experiences and digital products, such as NFTs and entrance to the Hall of Fans.
A Fan Engagement Agency Can Only Go So Far: The Next Generation of Fan Engagement Has Arrived
The world is a lot more digital than it was even just half a decade ago, and how sports clubs and organizations communicate with fans has to be updated to fit new digital norms.
Now, using a fan engagement platform like Fanprime will finally allow sports clubs to give back to fans with every data interaction.
Fanprime is part of the SaaS revolution that aims to put fan engagement back into the hands of sports marketers while animating more fan interactions. It is now easier than ever to identify the most valuable super fans, glean priceless data from them, and open up a wave of new earning possibilities.
Contact us to find out how we help sports clubs and organizations make every single online interaction count.