4 Fan Engagement Solutions That Are Shaping SportsTech Right Now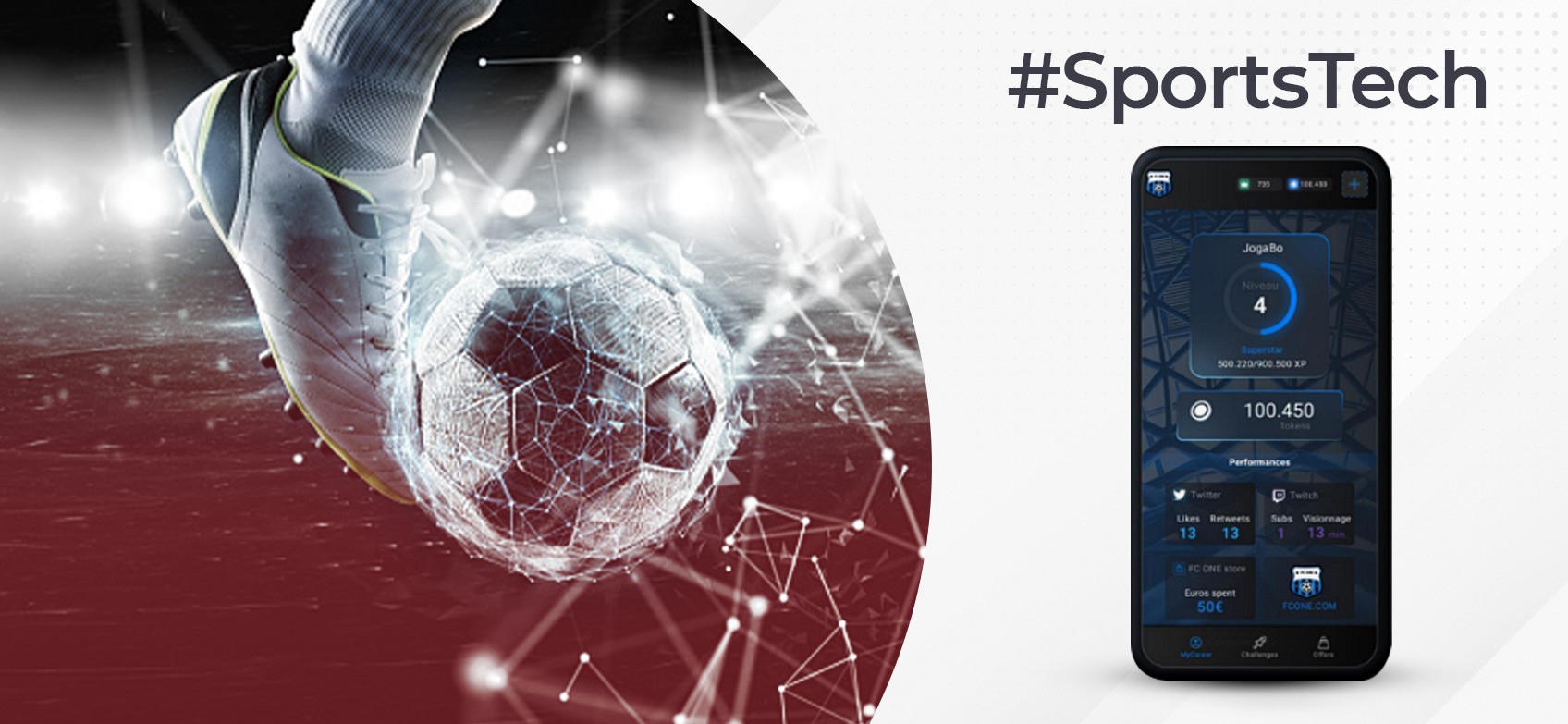 Gamification is the new superpower behind customer engagement, but knowing how to use it is tricky. These 4 fan engagement solutions will put you on the right track.
The world's greatest soccer player, Leo Messi, once said there are more important things in life than winning a game, but for big sports brands, gamified fan engagement solutions are proving to be a match-winning asset they can't do without. 
It's a phenomenon that isn't just restricted to the sports industry. 
Gamification is now a tour de force across the whole corporate ecosystem, forming the bedrock for dynamic social media and marketing ideas that take customer engagement to a new level. 
According to research by leading online recruiter Zippia, 70% of the Forbes Global 2000 companies now employ a gamified marketing strategy. 
Microsoft even takes a gamified approach to employee training, motivating their workers with quests, badges, and a leaderboard. 
However, for CMOs or marketing heads at major corporate brands, just shouting 'GAMIFICATION' at bewildered marketing staff isn't enough to stand out from rivals.
Forging a gamified strategy is complex and strewn with difficulties, including:
Coming up with potent gamification ideas that engage with customers 

Utilizing data monetization correctly to maximize new revenue streams

Making gamified ideas a key part of an effective marketing strategy
With the world seemingly awash with game-centric ideas, it does make picking through the noise to find those diamonds in the rough that will earn you maximum ROI much harder. 
In this article, we're going to highlight the fan engagement solutions that are making waves in the sports industry, which we can also transfer to other corporate arenas.
Looking to drive engagement with your customer base? Get in touch with Fanprime for more information on how our cutting-edge platform can help you supercharge your marketing revenue.
The Top 4 Fan Engagement Solutions
Fun, dynamic, and always engaging, fan engagement solutions done correctly are the gateway to novel customer experiences and the new revenue streams that follow. 
Here are 4 solutions you can adopt to help put your brand top of the league.
1. Rewards loyalty systems
Gamified loyalty systems use principles that have existed for decades, if not centuries. 
Yet, unlike your average air miles program, new digital fan solutions not only dish out rewards for purchases, but also for every referral or social media interaction, which fans can rack up and exchange for unique fan experiences, brand non-fungible tokens (NFTs), or limited edition items. 
Sports brands package these points-earning tasks into a structure borrowed directly from the gaming world, with words like 'challenges', 'quests', and 'leaderboards'. In doing so, they not only make interactions more exciting, but also bring out their customers' competitive edge as they try to outdo each other, which drives further interaction-based revenue. 
Leading esports brand Team Vitality discovered the true power of gamified rewards when their pioneering Fanprime-powered loyalty program became the first such project to connect the Web 2.0 and Web 3.0 worlds. Once signed up, fans can create their own digital identities and receive rewards every time they show support for the team. 
News of the program spread quickly, to the point where 50,000 new fans had signed up within weeks as part of a 10x upturn in engagement.
Fanprime's points-based rewards dashboard, with tokens count and leaderboard
2. Setting up multiple interactive channels
If businesses want to drive engagement, then they must make it as easy as possible for customers to interact with them. 
In an already saturated market, social media usage continued to rise by 6.5% in 2022, making the likes of Twitter, Twitch, and TikTok engagement hotspots for major brands. Once again, the sports industry leads the way here, with athlete-to-fan direct chat, live streaming of training sessions, and real-time gamified polls and challenges.
Sponsors also love the prospect of having thousands of consumers in one place at the same time. 
The Union Cycliste Internationale (UCI), the world governing body for sports cycling, was keen to forge deep two-way fan interactions via social media in 2022. Fanprime helped them do this, providing a digital hub where fans could hook up their social networks via sophisticated APIs. 
Once on board the platform (My World of Cycling), they can earn points and enter prize draws for completing challenges and quests, while the organization could show its appreciation with exclusive prizes and giveaways, including meeting a star rider. It's thought to be the first platform dedicated to cycling enthusiasts.
UCI Director General Amina Lanaya expressed his excitement in a press release where he said he hoped to have tens of thousands of registered fans within months.
He marked this new interaction method as just the start of a new era of enhanced sports fan engagement that would help drive the sports team forward.
An example of how fans can hook up multiple interaction channels
3. Fan engagement analytics 
Monetizing interactions is just one benefit of customer engagement. Sports organizations are also blazing a trail when it comes to gathering consumer data generated by these digital exchanges, and major corporate brands are quickly adapting them to their own strategies.
Collating and centralizing first-party fan data is the quickest way to understand what sports fans really want, which then guides them toward tailored marketing campaigns that hit home. Sports clubs are able to target 'superfans' – those who interact and spend the most – while also identifying those dormant fans who might be in need of a little TLC. 
League 1 soccer club ESTAC Troyes discovered the power of this when their Fanprime 360 loyalty program allowed them to assemble fan data from multiple outlets (digital, in-stadia, web 3.0 and e-shop) in one place. This enriched data formed the basis of a one-to-one marketing campaign that tripled the engagement rate and added 50% to the average fan spend – all in just three months.  
How centralizing fan data led to eye-opening result for ESTAC Troyes

4. Customer engagement platforms
Brands know how gamification oils the wheels of consumer interactions, rewards, and data analytics, but what they need is a vehicle to bring them all together in one place. 
Customer engagement platforms are the means of doing this, working as a single piece of software that consumers can access (either in-browser or via a mobile app) to earn rewards, as well as chat and compete with fellow users.
These platforms act as a command center for brands and allow them to enable, track, and manage consumer interactions by:
Offering social media touchpoints for customers to connect to

Creating gamified customer challenges that lead to rewards, and leaderboards that encourage competitive behavior

Using Artificial Intelligence (AI) tools which automate first-party data collection
On top of this, these platforms, of which Fanprime is a leading example, are built to accommodate emerging Web 3.0 technologies for years to come, making upscaling easy.
The Fanprime platform's simple sign-up process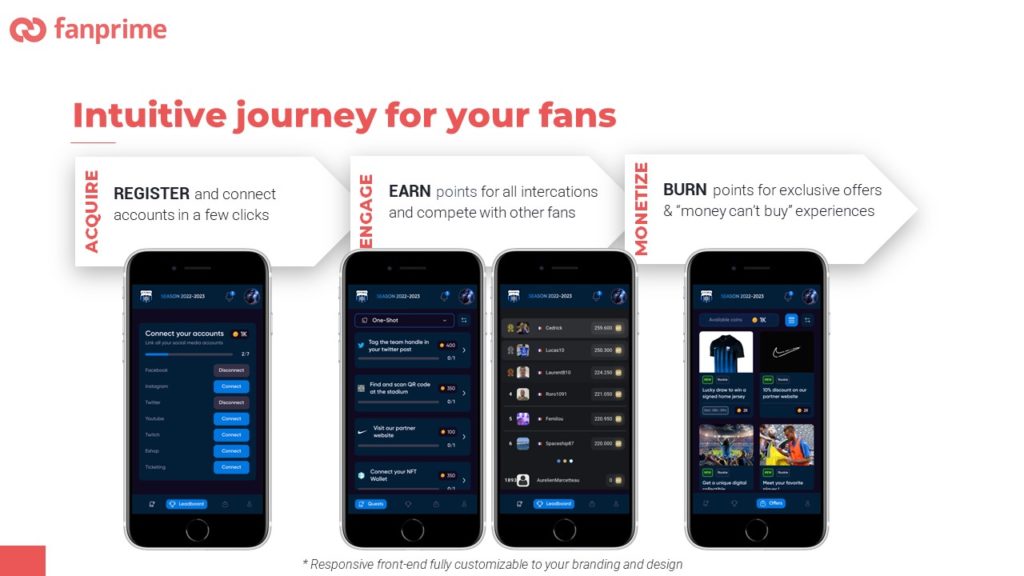 Integrating these platforms into their marketing campaigns is easy for brands who find that they now have the perfect outlet for pitching gamified marketing ideas to an enthusiastic customer base. 
Ready to gamify your marketing to drive engagement and revenue? Get in touch with Fanprime to find out how you can get your customized platform up and running today.