The 5 Best Gamification Loyalty Program Features to 10x Engagement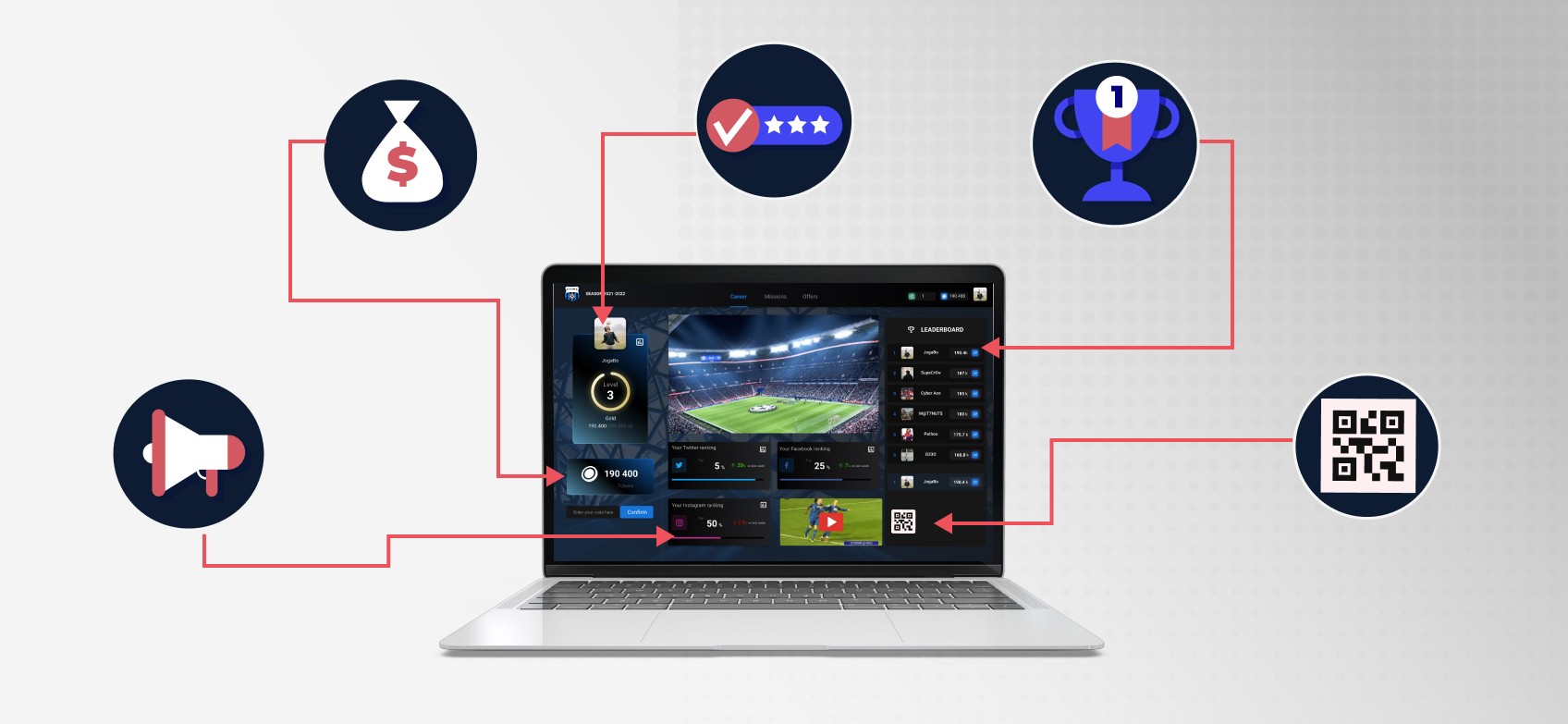 Gamification is the new superpower behind customer engagement, but knowing how to best use it can be tricky. These 5 features will put you on the right track.
Work and play may seem like opposites, but enabling people to do both at the same time is the reason why marketers are finding gamification loyalty programs to be powerful tools to 10x customer engagement.
Not only do gamified features grab attention, but they also inspire, educate and entertain people to ensure that they keep coming back. 
In 2020, research by the Harvard Business Review found that brands that use loyalty tools (including gamification) grew revenue 2.5 times faster than their industry peers.
Today gamification plays a key role in the loyalty programs of many major brands, as marketers know it's a vital component toward maintaining customer retention. 
The trick is knowing how to do it.
After all, to outperform rivals, marketers need to address tricky concerns, such as:
Ensuring that the games enhance customer experience

Justifying the high cost of gamification features to their company

Finding the time and resources to plan an expert gamification strategy.
If you find yourself in this position, you're probably aware that meeting these challenges requires an in-depth understanding of the psychology behind gamified loyalty programs and why they work so effectively. 
Only then can you work out which features bring out the best of your product, help capture new leads, and consistently turn new customers into frequent users and collaborators for your brand.
In this article, we're going to dig deep into this topic to uncover the five best features that make gamification in loyalty programs such a success for brands around the world.
Want to experience the power of gamification loyalty programs with your brand? Contact Fanprime to see how our customizable rewards platform can open new revenue streams and reward your customers at the same time. 
Why the gamification of loyalty programs is so powerful  
Marketers who have used games to form effective brand loyalty programs have found that they tick several boxes that all contribute to higher engagement and customer retention. 
The one factor that unifies all of these is that the customer gets to choose how much they want to engage with the brand. 
The whole model is based on voluntary activity, which gives consumers a sense of power and control over the marketing process. They may know they're being sold something, but they don't have to endure boring commercials and spam emails. 
Instead, they get to play games and get rewarded for it in the process. 
Speaking of rewards, these form the backbone of gamification's success in marketing. Whether it's a 10% discount or a once-in-a-lifetime NFT experience, customers love the feeling of getting something extra. 
This is something that's hard-wired into our DNA. The brain gets a dopamine hit every time we get a reward; we feel a sense of pride and achievement, and we want more of the same, which encourages repeat behavior. The higher the reward, the higher the incentive, and the more likely we are to take action.
Gamified reward programs are also a very timely phenomenon. Surfing the crest of the wave in subscription-based gaming, they are perfect for a target audience who are used to playing video games with micro-achievements and multi-layered goals both at work and in their free time.
Millennials and Gen Z users, the youngsters that companies must target if they want to hook the next generation of consumers, are particularly used to this type of activity. A recent Gallup study showed that young employees have even come to expect gamification at work, with 71% of millennials feeling disengaged otherwise.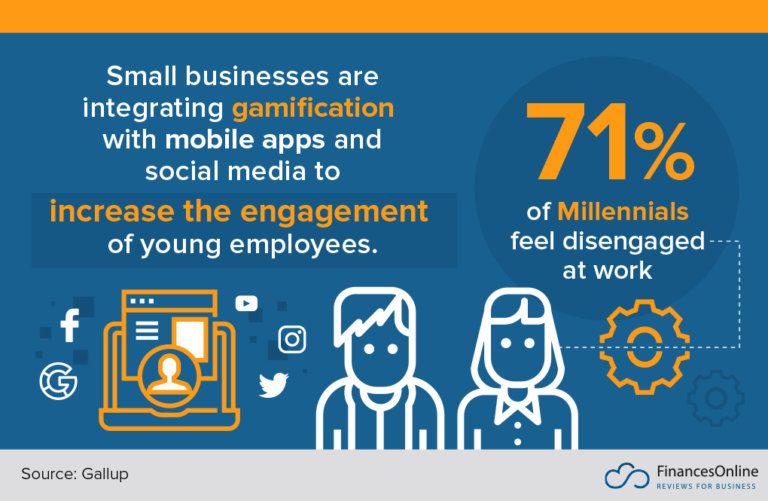 Source: Gallup (via Financesonline)
Human nature's competitive element, too, is something that links both video games and loyalty program gamification. Often, this is just against ourselves: we always want to beat our previous score. More powerful, though, is the urge to outperform our peers, whether it's a gaming buddy or a fellow online user. 
Like gamers, customers who can see their progress matched against others are compelled to keep playing, to either maintain their lead or keep up with rivals.
In hosting customer loyalty programs, companies thus benefit from this competitive, reward-seeking behavior. Not only will this exchange of value dramatically increase brand engagement and unlock new revenue streams, but your customers will do it for you – and will be extremely happy to do so.  
On top of this, you'll gain invaluable customer information first-hand, which will allow you to get to know your customers better and produce more effective future marketing strategies. 
Companies that can master the art of gamification will have found the keys to unlock new revenue streams, collect personal data and build a feedback/rewards loop that will put them one step ahead of rivals.
The top 5 gamification features to boost engagement 
After much trial and error, big brands are finding that these five gamification techniques we have listed below are hitting the sweet spot of entertaining customers and driving interactions that lead to higher revenue and data returns. 
1. Social connectors 
Humans are social animals and social validation scores highly in our innate list of priorities. 
It's the reason behind the continued rise of social media and why the best gamification loyalty programs are finding that a strong connection to these networks is producing the best results. 
Whether Twitter, Twitch, Instagram, or Facebook, allowing users to sync their achievements with their followers and friends via these platforms is proving to be a big hit. 
Take fitness app Strava for an example. Users can instantly upload their achievements to their social feeds, where they get 'kudos' from a wider audience. This cycle of validation helps form communities and serves as a 'retention hook' for Strava, in that it brings other users to the app. 
Many other brands are oiling the wheels of this process by shaping social media activity into gaming-related constructs like 'missions' or the 'quests' we mentioned previously.
Fanprime white-label loyalty platform awards bonus points to fans for every social activity they complete, including mentioning a brand-related hashtag or affiliated account, or liking, sharing or commenting content.
The points system not only provides a competitive element between fans to see who ranks the highest, but it also provides the basis of an interactive online community where they can share their achievements and exchange opinions and ideas. 
The plug-and-play platform also comes with an integrated Discord widget that maximizes this social activity. 
2. Quests 
A quest is a blanket term that covers a whole array of interactive user challenges. 
Borrowing heavily from video game rhetoric, it brings out the competitive nature in customers as they compete against others. 
Players earn rewards points, badges, trophies, and prizes in exchange for completing tasks under the wider arc of the quest. When done correctly, this is extremely useful for the brand in several ways. Examples of quest challenges include:
Fun for participants, surveys and quizzes are perfect for profiling customer preferences. Maybe they have to choose which product they like the best, or answer questions about the brand. The goal is to gather useful customer information that the brand can use to shape future products. 
Surveys and quizzes are also a useful tactic for drawing new customers in from elsewhere, especially when they have a visually appealing design.
In treasure hunts, customers are encouraged to trawl through the brand's website or other assets for hidden treasure or a special product. This encourages them to visit every page and discover other products they may like, not to mention the possibility of them getting their friends to log on to help them.
The beauty of a purchase challenge is that customers are actively buying products in order to complete the task and earn further rewards. 
A classic case study here is the Starbucks Rewards app, whose 'menu challenge' gamifies purchases by awarding bonus stars for each one, which can then be redeemed against further orders. Customers not only sample more items than they normally would but encourage repeat purchases from other users who are competing with them. 
Marketers can even deepen the gamification process by adding layers to quests. A 'complex quest', for example, might contain multiple smaller quests, a tool that gives the brand the ability to scale up gamification if they find that many users have completed the initial quests. 
3. Leaderboards
Every game needs a way of keeping score. A leaderboard shows a player their progress, while simultaneously motivating them to compete more and earn new rewards. 
If you're a brand marketer, you can even break leaderboards down into ranks and levels so that loyalty program members earn an extra sense of achievement through improving their status. Many programs even award extra status benefits, such as unlocking new rewards or access to new gamified features. 
Streaks and milestones built into the gamification process (and shown on the leaderboard) can also act as a kind of fast-track for a player's ascent to the next level. 
Language app Duolingo has perfected this technique by awarding player experience points (XP) for each successful answer, and by praising them with fire emojis for every streak. The player can see their personal progress as they rise up the leaderboard, and Duolingo's marketers know that this will help form a positive learning habit, helping both them and the user.
The cost to Duolingo in handing out these rewards? Virtually nothing. 
Leaderboards have one final big perk for brands: they let them easily view their most loyal customers at a minimal cost. Those at the top of the rankings can be awarded a special status,  say 'gold' or 'platform', and can be easily grouped together for targeted promotions.
In sports, for example, platinum members might be the only ones eligible for a video call with some star players. Non-platinum players will feel like they're missing out on this fan reward and will double down their efforts to get into this exclusive club, which is great news for the sports club running the program.
4. Giveaways
So far we've spoken about how customers can exchange a certain amount of effort for rewards, but what if they don't have to do anything?
Sometimes gamification involves virtually passive activities that don't involve skill or knowledge, like spinning prize wheels for random prizes or entering contact info into an online raffle or sweepstake. 
While this may cost your company a little upfront, it has numerous benefits. First, it grabs the customer's attention by offering them something for nothing. Its randomized process also generates a thrill: after all, everyone has the same chance of winning. 
For the brand, it's another great way of capturing all-important new customer data, such as email addresses or phone numbers. It also serves as an incentive for new customers to sign up and may even encourage dormant customers to start engaging again.
Team Vitality, the esports brand mentioned earlier, has perfected this technique by tapping into the huge opportunities that come with Web3 technology. Instead of sending team jerseys and memorabilia around the world, they can reward high-performing fans with unique NFT avatars and wearables.
An integrated connection to the Kukai NFT wallet means they can trade these with other fans and funnel the crypto they receive directly into their personal wallet.
5. QR Codes 
The convenience of QR technology has revolutionized the way brands interact with customers. 
From app downloads to brochures, the handy black-and-white codes are a great way to increase brand awareness, allowing the user to access your material in just seconds. 
QR codes help drive gamification by providing an extra touchpoint with customers. Companies can sprinkle dynamic codes across their websites, paraphernalia, and packaging so that customers can scan it and earn reward points, discounts and/or coupons. 
Done well, gamified QR codes can transform a marketing campaign. When Netflix released a reboot of hit show Gilmore Girls, they built a guerilla marketing campaign around QR codes, printing them on 10,000 coffee cups at various chains. Drinkers simply scanned the code to access a series of Gilmore Girls themed photo filters, a move that garnered over a million extra interactions. 
Brands from any industry, from ecommerce brands to sports clubs, can utilize QR tech as a quick and easy vehicle to reach out to both new and existing customers. 
With just about everyone owning a smartphone these days, all it takes is a simple camera scan and they're on board with whatever gamified activity is beyond the code. 
Customizing gamification loyalty platforms to unlock your brand's superpower 
Gamification is changing the digital marketing landscape quickly, and it can be difficult to keep up with the latest trends if you're a marketer responsible for using it to attract and entertain customers. 
To deal with this challenge, many big brands are turning to customizable loyalty platforms that have the capacity to host many gamified features for customers to access. 
With huge gamification engines capable of using the latest game mechanics, the platforms serve as a one-stop shop for a dazzling array of customer quests, leaderboards and social connectors.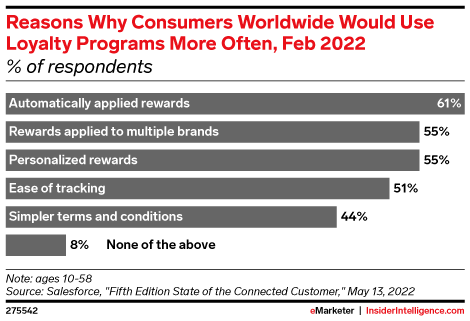 Source: Insider Intelligence
Going beyond simple 'plug & play', the latest solutions come with a back office that can connect with your company's software via sophisticated APIs. As a marketer, this gives your team full autonomy over your own frontend, meaning you can choose either a plug-and-play customer interface to suit your brand or integrate these gamification features into existing user journeys.
A typical interface, then, might offer the following embedded features:
Social media and Web 3.0 touchpoints that let the player sync up multiple social networks and digital wallets

A range of earn triggers, including rewards for purchases, referrals, completing quests, and any brand-related interaction on any of the connected media

A benefit redemption tool that automatically rewards the user with perks ranging from discount codes to NFTs

Inbuilt gamification with XP points, badges, and access to leaderboards. 
For a fraction of the price of a customer engagement agency, these platforms are gripping digital marketers by providing a range of entertaining and affordable features that their consumer base can access right away to start earning rewards today. 
Ready to gamify your brand's customer experience? Fanprime's white-label platform comes with a back office that gives you full control over your company's gamification loyalty programs.