4 Effective Reward Strategies for Enhancing the Fan Experience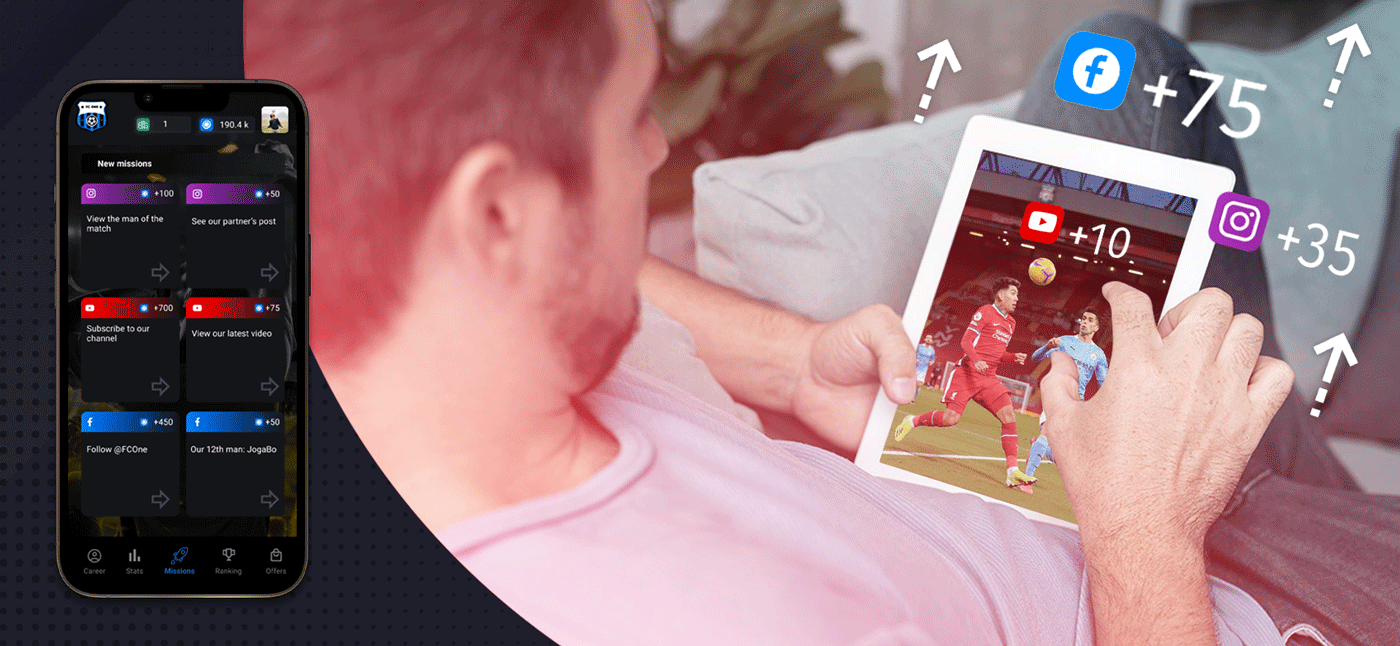 Enhancing the fan experience is now central to sports marketing. Here are the 4 rewards strategies that are making it happen.
Sports marketers and club CEOs put enhancing the fan experience at the center of their marketing strategies — and with good reason. 
The COVID-19 pandemic has accelerated consumer trends that had already been in place prior to March 2020: People have been thrust into digital lifestyles, forcing clubs to raise their marketing game if they want to encourage fans out of their armchairs. 
On top of this, new public health concerns mean fans are more cautious about entering public stadiums than before. 
But it's not just the health crisis that's motivating clubs to adapt their fan engagement strategies. Two new generations of sports fans are on the horizon that are set to shape consumer habits in the industry for the next 50 years: the first, known as 'Gen Z' (those born between 1995 and 2010) are used to watching sports events across numerous online platforms. 'Gen Alpha', meanwhile, (born after 2010) is the next in line. 
Both generations are what we can call digital natives: ultra-connected consumers that are not only comfortable with the latest technology but demand it as part of an enhanced fan experience. 
This new wave of fans isn't content with just buying their ticket to a game: they want to be entertained before, during, and after the game, with diverse and engaging content that they access through multiple channels.
We're already seeing evidence of this through media consumption trends: short-form highlights and off-field content are the biggest growth areas in sports media, according to research by Sports Marketing Agency Two Circles.
Rather like events on-field, sports marketers know that failing to adapt to these fan demands means stagnating and handing the initiative to their rivals: a disastrous move in an industry known for its quick rate of change.
Yet instead of being intimidated, many clubs are rising to the challenge by introducing a new raft of effective reward strategies that:
Capture

invaluable fan data

that has been previously trapped in the hands of third-party companies

Increase and generate revenue streams to

improve long-term ROI

Set the club up to adapt to the

new world of Web 3.0 technology

in order to give fans the interactive experience they crave
4 Reward Strategies for Enhancing the Fan Experience for New Generations
Modern reward strategies that not only give the fan what they're looking for but also maximize financial and data returns for the club, are not just a luxury anymore, they're an essential part of club operations. 
Here's how many marketers are going about it today. 
Adopt a points-based rewards system
Fans love points. 
This is because people love status, ranking, and the ability to measure themselves against others. 
On top of this, there is currently a boom in loyalty programs across numerous sectors – from airlines to retail. 
For sports, points are, after all, deeply ingrained into the fabric of our industry: teams get points for a home run, a slam dunk, and, above all, a match victory. The psychological boost of receiving points means they are at the center of a key rewards strategy: a loyalty program that operates a points-based system built on fan interactions and purchases. 
Best offered through the medium of a fan engagement platform that sets up direct-to-fan experiences, clubs award fans points for club-related social media posts and likes, buying merchandise or purchasing tickets. 
Points then accumulate to unlock different fan tiers that hold value-added experiences: they might get VIP perks, like seat-sharing programs, or access to exclusive tickets and merchandise. Or even "money-can't-buy experiences", such as meeting a star player and unique access to collectible memorabilia. Increasingly in the future, these might also be unique NFTs — as seen with the successful NBA Hotshots — or a club token that gives the fan their own slice of the club. 
A points-based system offers two huge benefits:
It creates a

perfect loop of interactions and revenue

: fans strive to get points to get club status symbols that make them the envy of fellow fans; the more points the club awards the more revenue it generates.

Clubs get direct access to key data that lets them increase the efficiency of future promotions: they can identify their top 5% bracket of fans, which we can call 'whales' who are a major revenue stream and encapsulate the fan mood.
White-label platforms are the most effective conduit for this strategy, allowing the club to offer fans a one-stop shop for online interactions, points leaderboards and first-party data capture.
Researching ways to give your club's fans a more engaging experience? Fanprime has the answer. Give us a call now to find out how you can set up your club's own points-based reward system today to both reward fan loyalty and maximize untapped revenue streams.
2. Create a tiered fan rewards system 
The new generations of consumers are always online, and they're used to having a direct say in the entertainment they see before them. 
We've seen this heightened participation in interactive movies and video games where the viewer gets to choose what happens next. 
As technology continues to evolve, this demand for constant interaction is going to spill over into real-world entertainment: in fact, we're already seeing it in sporting events like the Fan-Controlled Football League: a professional indoor football tournament where fans vote on all offensive plays in real-time and decide the outcomes of instant replay reviews. 
Innovative rewards strategies, then, will allow clubs to simultaneously meet this demand and hit key new revenue streams. Let's take the points-based model example to see how clubs can create a tiered system that empowers fans with the freedom of choice and lets them have a say in what they experience. 
The more points the fan has, the better the reward. 
Low-level tier
Fans take part in live challenges during intervals, such as creating enough noise to burst an interactive balloon. If successful, members at the game win points to add to their platform tally. 
Mid-level tier
The club allows fans with a mid-range points level to decide on non-crucial club decisions, like the design of club logos and jerseys and which music they get to hear before games. These can be held via polls conducted via the club's engagement platform.
High-level tier
Fans with access to the highest membership tier, such as the top 5% we might call 'whales', take part in club operations, such as which players start a game, or even selecting a new coach.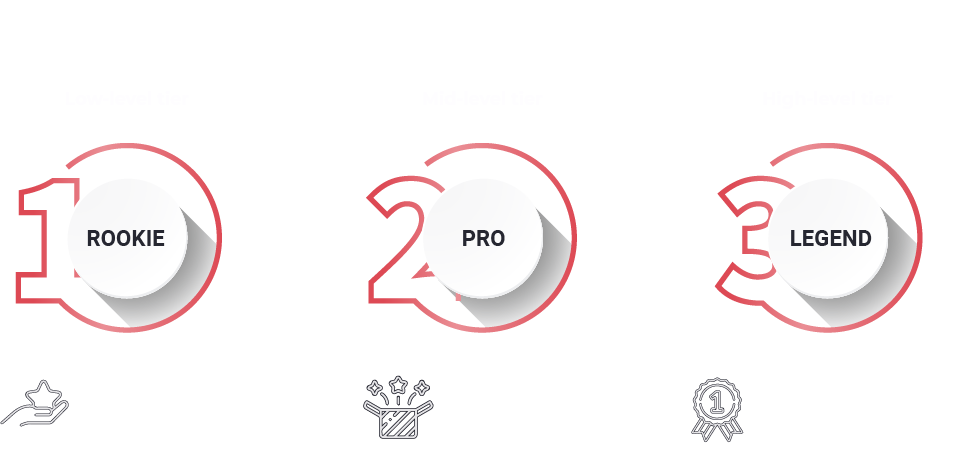 As well as driving revenue through increased fan/club interactions, this system may even benefit the club on an operational level. 
Not only will it relieve the burden of decision-making from club CEOs, but it could see the 'wisdom of the crowd' improve team performances. Fans, after all, are the ones who watch their team regularly, and know their players inside-out: they will also love the fact that they get to be involved in the club they love like never before. 
3. Harness the power of the metaverse and AR/VR technology
Fans are now used to seeing the latest tech in every area of their lives and will expect it to be part of their sports entertainment package in years to come. Clubs that don't embrace new tech will not only look old-fashioned but even hostile or miserly, given that their rivals will be placing it at the center of their rewards strategies. 
A central part of the new fan experience will revolve around the metaverse and Augmented Reality (AR), which are both tech that have been around for a while but maybe finally set to come into vogue. 
Morgan Stanley estimates the metaverse as an $8 trillion opportunity, while virtual reality/AR revenues will hit $6.7 billion dollars in 2022, and then grow so rapidly that they will almost double to $12.19 billion by 2024. 
As a result, clubs will soon be competing to create new virtual "properties" in the metaverse in order to offer AR-powered features as a key reward strategy that provides personalized experiences based on fan level. 
Let's use the multi-tier rewards model from before. Fans with a basic rewards level might get access to general perks open to all fans at a game, such as having a photo taken with superimposed athletes in special booths around the stadium. 
Mid-tier fans might receive access to an exclusive metaverse location that can be viewed with immersive AR options, whereby they get to see special 3D coverage of games. This could include special tutorials, beamed into through the TV from the players themselves that help the fan hone their skills, like soccer tricks or golf swings. 
Finally, 'superfans' get full access to everything the club has to offer in the metaverse. 
These might include access to state-of-the-art club-brand AR goggles that mix the real and virtual worlds when they visit the metaverse: picture mascots flying over the stadiums and giant holograms of dragons and lions as part of the pre-match entertainment. During the games, 5G internet speeds mean supporters will be able to view player info and game stats superimposed onto the pitch during play, have access to multi-screen options, and choose their own replays. 
Fans that desire to experience the metaverse and show their support for the club will fuel this emerging system. If they see their friends unlock more privileges in the metaverse due to a higher fan level, then they'll want to do the same: much the same as video games, where players are motivated by XRP rewards strategies. 
4. Put social media at the center of the fan experience
Smartphones are no longer just supplementing the fan experience, they're becoming the virtual arena through which fans can interact with the event and other people watching it via emerging social media features. 
On social media, vibrant new platforms such as Twitch and TikTok that offer interaction with athletes via live feeds and real-time challenge polls are replacing the old guard of static Facebook and Twitter threads. Soccer coach Arsene Wenger has even predicted that social media followers will soon have the power to make in-game decisions, like substitutions and tactical decisions.
Yet for all the benefits that social media brings, platforms like TikTok and Facebook are a huge barrier between sports clubs and their followers. 
As CEOs and marketers know only too well, clubs are just renting fans' attention when paying these platforms for increased exposure and sponsored content. Today, valuable fan data is hoarded by social networks, who keep clubs at arm's length and get paid handsomely for doing so.
With innovative reward strategies built into a dedicated fan platform, clubs will be able to turn these rented fans into highly engaged and accessible brand creators. Not only will every social media interaction boost the club's profile, but it will also be automatically converted into invaluable fan data for the club to build and test new digital business models. 
With a points-based reward system, clubs will also have the power to award these social media privileges to their most dedicated band of followers, motivating fans to increase their engagement even further. 
Fanprime: The gateway to a new world of fan experiences
The new era of sports fan experiences will demand a gateway through which club marketers can funnel cutting-edge rewards strategies to make them as accessible as possible for fans. Fanprime exists to meet this demand. 
A gamified fan loyalty program, Fanprime helps bring together an array of rewards options through a white-label SaaS platform that clubs can design in their own image. 
Once fans sign up and connect to their various social media outlets, they access an in-built points system that rewards them for every interaction, whether it's via a tweet or buying merchandise. They can use their points to access perks including:
Privileges, including direct involvement in club matters and access to special in-game features

Exclusive merchandise

Discounts and gifts

'Money-can't-buy' experiences, such as meeting star players or owning a unique club NFT.
Fanprime uses simple APIs to capture crucial first-party fan data to help sports marketers truly know who their superfans are and hone their ad campaigns accordingly. In essence, it allows clubs to own vital data, such as what fans like and where they interact.  
Finally, it prepares the club for the next generations of sports fans: those digital natives who'll expect VR, AR and 5G as part of their matchday experience. 
Fanprime's easy-to-use interface allows clubs to create point-based reward programs, allowing fans to collect points and win access to exclusive metaverse locations and privileges. 
Contact us to find out how you can set up a fan rewards program for the new era and put yourself one step ahead of your rivals.